This super simple dish is a regular at our Thanksgiving. It's great because the leftovers can be made into butternut squash raviolis the next day.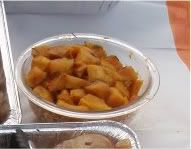 1 large onion, sliced
1-2 lbs butternut squash, diced into 1" cubs
1 tsp dried thyme
salt, pepper, olive oil
Preheat oven to 400 degrees.
Toss squash and onions with olive oil, thyme, salt and pepper.
Roast for 30 minutes or until tender, tossing after 20 minutes.