My auntie and I received this recipe in a Thanksgiving handout at a William Sonoma demo on Halloween, although it was not one of the items presented. Thought I'm not overly fascinated with the demos, I found a number of tasty-sounding recipes in this handout, including this one. See the original recipe at the William Sonoma website
here
. We followed the directions to cook the biscuits in the frying pan in the bacon fat, but I recommend baking on a cookie sheet. Ours were a little flat as you can see in the pictures, which might be solved by a better baking surface.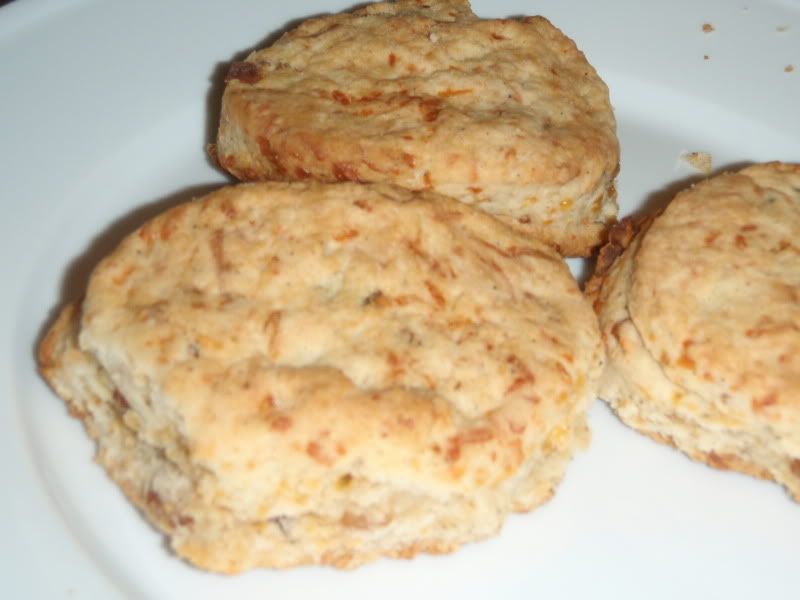 Ingredients
6 oz. bacon, diced
2 cups all-purpose flour
1 Tbs. baking powder
1 tsp. kosher salt
2 tsp. sugar
3/4 tsp. freshly ground pepper
8 Tbs unsalted butter, cut into 8 pieces, plus 2 Tbs. melted butter
3/4 cup shredded cheddar cheese
1/4 cup grated Parmigiano-Reggiano cheese
3/4 cup plus 2 Tbs. buttermilk
Directions
1. Fry bacon in its own fat until crisp. Chop finely.
2. Whisk flour through pepper together. Cut in butter using a pastry cutter, two knives, or your hands until pea-sized crumbs form.
3. Add in cheeses and milk and knead until dough comes together.
4. On a floured surface, gently turn out dough and roll until 1/2" thick, possibly 3/4" since ours turned out flat. Cut using a 2.5" biscuit cutter.
5. Bake at 425 degrees for 20-25 minutes until golden brown.