This simple recipe was modified from
this recipe
at Southernfood. I have been wanting to make ice cream for some time after seeing a number of recipes on the various food blogs I follow in the recent weeks. This recipe was incredibly simple since there are no eggs in it, however for best results it is best to chill the ice cream mixture overnight and the ice cream before serving. I already have another recipe in the works, so look for more ice cream adventures soon!
3 oz unsweetened chocolate, chopped
1 c granulated sugar
2 c milk
1 c cream (original recipe reversed the milk and cream)
1 tsp vanilla
1/2 c mini chocolate chips or roughly chopped dark chocolate
Combine all ingredients except vanilla and chips in a small saucepan. Cook over medium low to medium, stirring frequently until all the chocolate is melted. Stir in vanilla.
If desired, process mixture through blender until completely smooth. Cool completely, ideally overnight.
Pour chilled mixture into churning ice cream maker. (I used the Kitchen Aide stand mixer attachment and it worked marvelously.) Slowly add in chips or whatever add-ins you choose.
Churn until soft serve thickness is achieved. This took 20-30 minutes on low.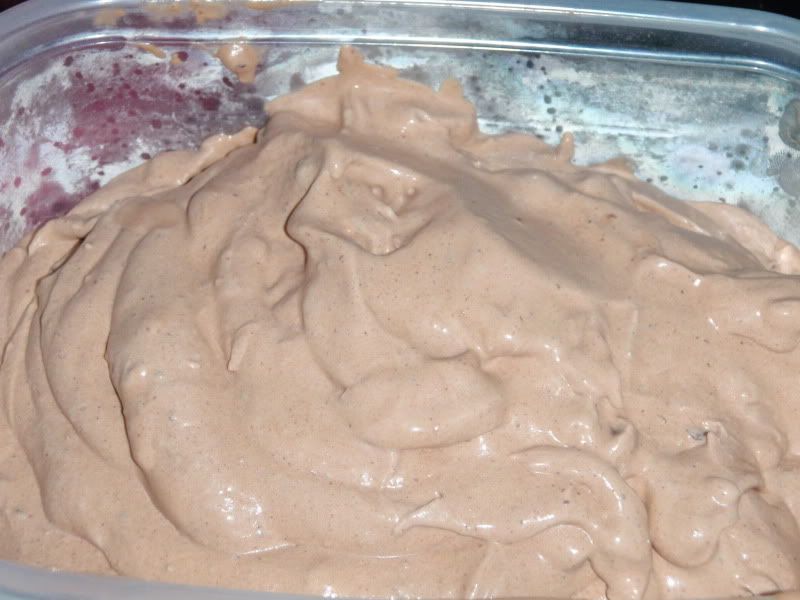 Chill overnight until firm. As you can see in this picture, it is definitely more ice cream-like. Note that the true commercial texture will not be achieved unless you first make a custard using eggs. Still, not bad at all, tasty, and definitely scoopable!