This recipe is from
A Year of Slow Cooking
and was intended for chicken wings. My husband loves hoisin sauce, so I didn't imagine there would be much harm in trying the recipe with larger chicken pieces. I swapped in crushed red pepper for the hot sauce mainly because I didn't have any on hand and omitted the oil because I forgot to add it. The chicken turned out quite yummy and disappeared in a flash! If only I had made more so there would have been leftovers. I server this over brown rice with grilled zucchini on the side.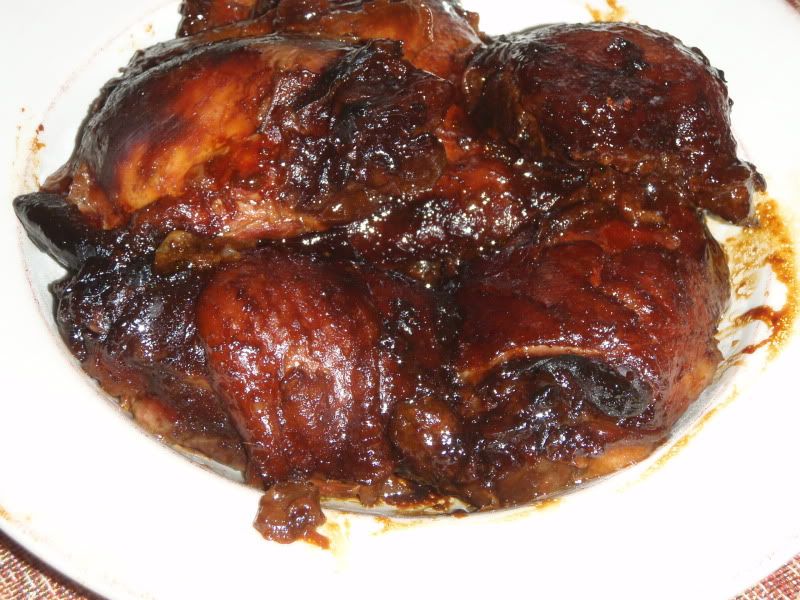 3 lbs chicken pieces (wings, thighs, drumsticks, etc)
1/2 cup Hoisin Sauce
1/4 cup honey
4-5 garlic cloves, smashed and minced
1 inch of ginger, peeled and minced or grated
1 tsp crushed red pepper
1/2 tsp fresh ground pepper
Whisk all ingredients except for chicken together.
Arrange chicken in even layers on bottom of the slow cooker.
Pour sauce over chicken. Turn to coat.
Cook for 4 hours on high or 6-7 on low. (I did a combination of the two temperatures, about 2 one high and 3-4 on low.) The longer you cook the chicken, the more likely it is to fall apart, however. If you're looking to eat the chicken with your fingers, monitor it closely. Make sure to turn the chicken whenever you check for doneness. This will help it turn a lovely mahogany brown color.
serves 4-6