This was my first attempt at making scones in quite a while. I have lately taken quite a liking to them at the local bakery and even at Starbucks because they seem more filling than a muffin. I remember once thinking that they were too dry to be enjoyed, but either recipes have become less so or my tastes have changed. Anyway, I adapted
this recipe
at Cranberry Morning to swap in whole wheat and make the recipe a little lighter. (Sorry the pictures aren't so hot. I snapped them in the morning before taking them to work and it was overcast.)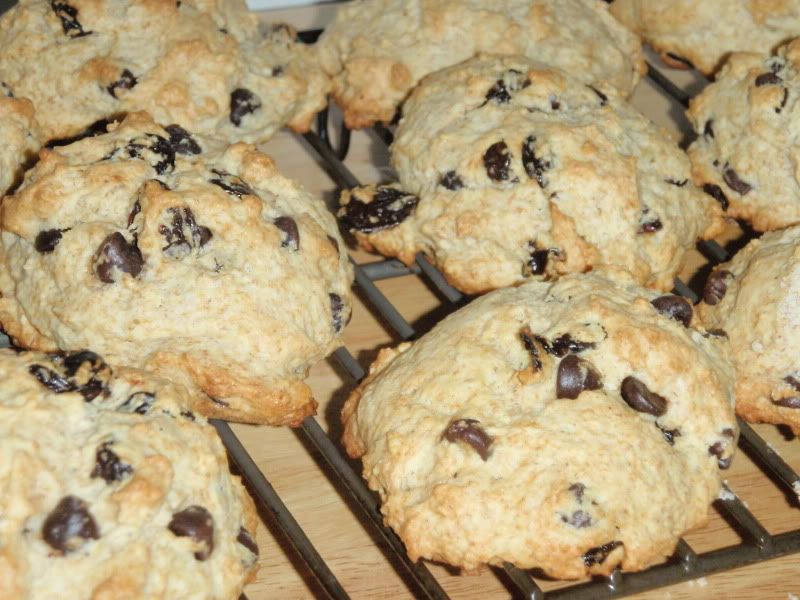 Printable Version
Ingredients
3/4 c whole wheat flour
1.25 c all purpose flour
1/3 c sugar
2.5 tsp baking powder
1/2 tsp salt
1/2 c butter, diced
2/3 c half and half (I used 2% and it was okay but a little dry)
1 tsp vanilla
1 egg
1 c chocolate chips or dark chocolate
1 c dried cherries (or cranberries)
Directions
Preheat oven to 375 degrees.
Whisk dry ingredients together in the base of the stand mixer. Cut in butter and mix until crumbly.
In a separate small bowl, mix half and half (or milk), vanilla, and egg. With the mixer on low, gradually add in liquid until well-mixed.
Stir in chocolate chips and dried berries.
Drop large scoops onto a cookie sheet covered with parchment paper. (I used my muffin scoop, which is about 1/4 to 5/8 of a cup).
Bake for 15-18 minutes or until golden brown. You may also want to use a toothpick to check for complete doneness.
Makes 10-12 medium scones.