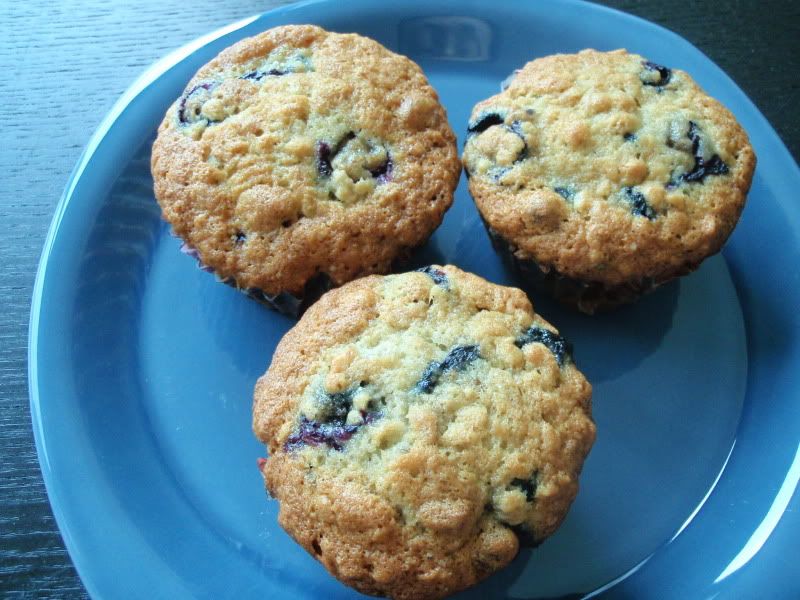 As I posted previously, these muffins were made using
this recipe
available at Cooks.com. I loved this recipe as the muffins came out moist and delicious! I am retyping it below to indicate the modifications that I made to make muffins.
Ingredients
1/2 c. butter
3/4 c sugar
1 egg
2 egg whites
1 c. mashed ripe bananas (two large bananas)
1 pint or a cup and a half fresh blueberries
1 1/2 c. all-purpose flour
1 tsp. vanilla
1 tsp. baking soda
1/2 tsp. salt
1/2 c. quick cooking oats
1/2 c. walnuts, toasted
Directions
Preheat oven to 325°F degrees.
Prep muffin tins with liners or spray with cooking spray. Cream together butter and sugar. Beat in eggs. Add mashed bananas.
Measure flour, reserving 2 tablespoons of flour to coat blueberries.
Stir baking soda and salt into flour, mixing well. Stir in oats. Fold into banana mixture. Stir in vanilla.
Sprinkle the 2 tablespoons flour over blueberries, then fold into batter. Stir in nuts.
Transfer batter to muffin pans. Bake 25-35 minutes until a toothpick comes out clean.