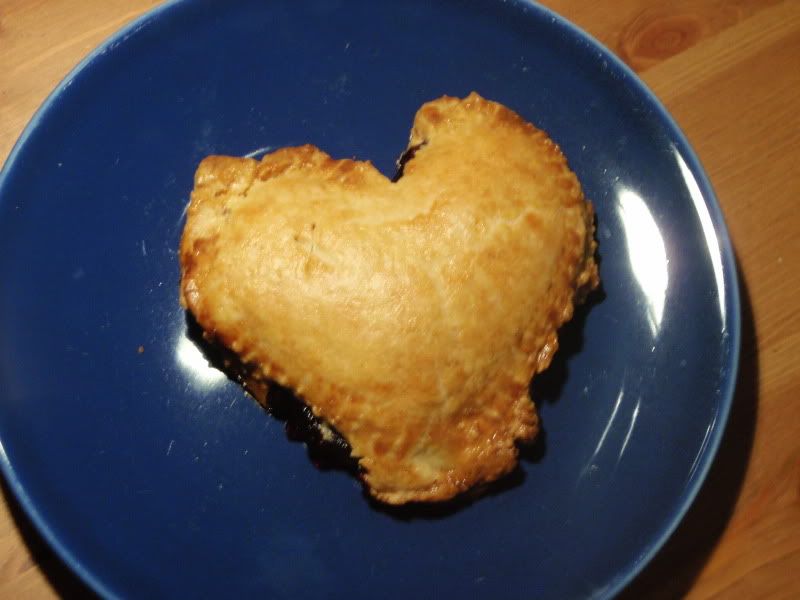 This recipe has been adapted for blueberries from the
Cherry Pocket Pie
recipe found on the William Sonoma website.
2 1/2 cups all-purpose flour
1 tsp. salt
2 Tbs. plus 1/2 cup granulated sugar
16 Tbs. (2 sticks) cold unsalted butter
8 Tbs. ice water
1 1/2 Tbs. cornstarch
2.5 cups fresh blue berries
1 tsp. vanilla extract
1 egg, lightly beaten with 1 tsp. water
Directions:

In the bowl of a stand mixer beat together the flour, the 1 tsp. salt and the 2 Tbs. granulated sugar on low speed for 10 seconds. Add the butter and beat until the mixture resembles coarse meal, about 30 seconds. Increase the speed to medium-low and beat for 1 1/2 minutes more. Gradually add the 8 Tbs of ice water, adding more or less to reach the desired consistency (the dough should cling together and not be too sticky)
Divide the dough into quarters, wrap with plastic wrap and refrigerate for at least 2 hours or overnight.
In a saucepan, whisk together the 1/2 cup granulated sugar, the cornstarch and pinch of salt, then add the blueberries and vanilla. Set over medium-high heat and cook until slightly thickened, about 15 minutes. Let the filling cool.
Let the dough stand at room temperature until it can be rolled. On a floured surface, roll out 1 dough disk into a round 1/16 to 1/8 inch thick. Using a pocket pie mold, cut out 8 of each shape (4 solid and 4 with the decorative cutout). Reroll the dough scraps, if necessary, and cut out more shapes. Repeat with the remaining dough disk.
Place a solid dough shape in the bottom half of the cutter and gently press the dough into the mold. Fill the center with 2 Tbs. filling and brush the edges of the dough with some of the egg wash. Top with a shape with a decorative cutout. Press the top half of the cutter down to seal and crimp the edges of the pie. Remove the pie from the mold and place on a parchment-lined baking sheet. Repeat with the remaining dough and filling.
Freeze the pies for 30 minutes or refrigerate for a couple hours.
(This step is very important as skipping it lead to mishapen results.)
Preheat an oven to 400°F.
Brush the top of the pies with egg wash and sprinkle with coarse sugar, if desired. Bake until the crust is golden brown and the filling is gently bubbling, about 20 minutes. Transfer the pies to a wire rack and let cool for 10 minutes.
Makes about 8 pocket pies.