I'm loving all the recipes that I find on personal blogs on the web. I've had many successes duplicating them and happily add this
pizza dough
recipe from
Our Best Bites
to that list. This is a universal dough recipe, although its author uses it most often to may very yummy looking bread sticks. On to the pictures and recipe!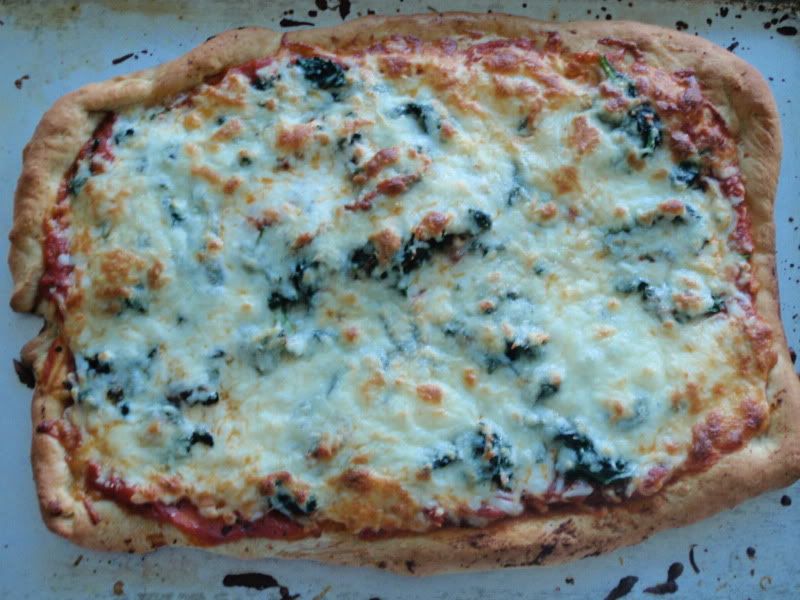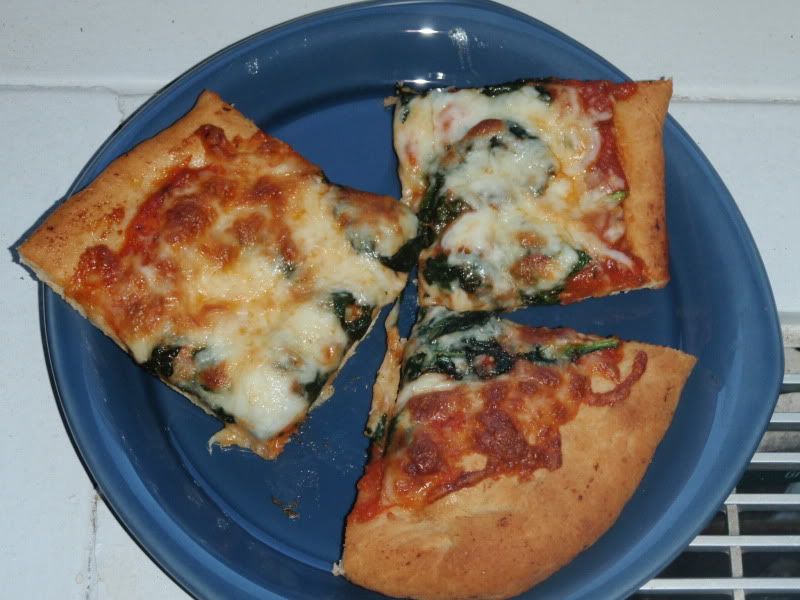 Dough for one pizza, fresh from the link above or store-bought
4 cups fresh spinach
2-4 cloves of garlic
2 cups marinara sauce (I used Trader Joe's)
2 cups mozzarella, shredded
1 c parmesan, grated or shredded
olive oil
salt and pepper
1. Prepare the dough according to the directions. Roll dough into the shape of your pizza pan. Make a small "crust" so that toppings won't spill over. Prick with a fork at least a dozen time to prevent bubbles during this pre-baking step. Brush with olive oil and sprinkle with salt. (Do NOT avoid this step unless you use store-bought dough as the recipe I used is low on salt as it assumes salty toppings.) In a 425 degree oven, bake the crust till it begins to turn golden brown or about 10 minutes.
2. While the crust is pre-baking, in a medium skillet, brown roughly chopped cloves of garlic until they begin to soften. Remove from pan and chop fine. In the same pan, adding more olive oil if necessary, cook the spinach with some salt and pepper until wilted. Return the garlic to the pan for the last minute of cooking.
3. Top the pizza with the tomato sauce and the spinach and garlic mixture. Sprinkle liberally with cheese. Brush the edge of the crust again with butter or olive oil (maybe even an egg white). Bake for another 10 minutes or so until the cheese begins to turn golden.