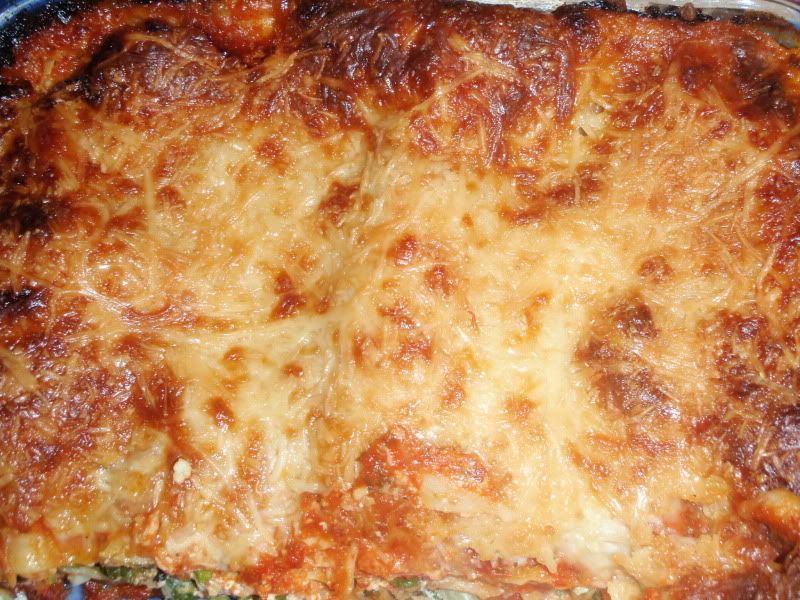 Ingredients


6 lasagna sheets (no boil or cooked)
1 lb Swiss Chard, ends trimmed, rinsed and roughly chopped
3 garlic cloves
3 T olive oil
1 T water
15 oz ricotta cheese
2 eggs
2 c mozzarella cheese, shredded
2 c parmesan cheese, finely shredded
3 and 1/2 cups tomato sauce (fresh or using favorite jarred)
Directions


Place swiss chard in a high-rimmed pan or pot. No water other than the bit from rinsing is required. Place a lid on the pan and cook over medium heat until wilted for about 10 minutes, stirring occasionally. Drain excess liquid.
Cook garlic in a small pot with a T of water and T of olive oil. The goal is to soften the garlic so it is mashable. (The recipe says to cook until the water evaporates. I added more water because my pot was too large and boiled or simmered until done.)
Mix chard, ricotta, and garlic. Season with salt and pepper. Mix in eggs.
Pour 1/2 c tomato sauce on bottom of the pan. Spread ricotta mixture on first layer of pasta. Sprinkle with parmesan cheese and another 1/2 of sauce. Repeat for another layer. Top with last pair of pasta noodles. Pour remaining sauce on top and cover with mozzarella and remaining parmesan cheese. Drizzle last two tablespoons of olive oil on top.
Cook uncovered in a 400 degree oven for 35-45 minutes, until golden brown and bubbly.