Happy Wednesday! This week and this summer seems to be flying by. Yesterday, I hinted that I would be moving away from primary colors for the remaining pages of the book, but that just didn't happen. Originally, I made the robot larger and in different colors, but he just didn't work on the page Thus, I returned to the basic red, yellow, blue, black combination. I really love this sprockets paper from the DCWV "All About Boys" paper stack, as well as the robots paper on the next page (so much so that I think I am leaving it largely empty to show off the paper). The top photo mat lifts up for hidden journaling or photo space.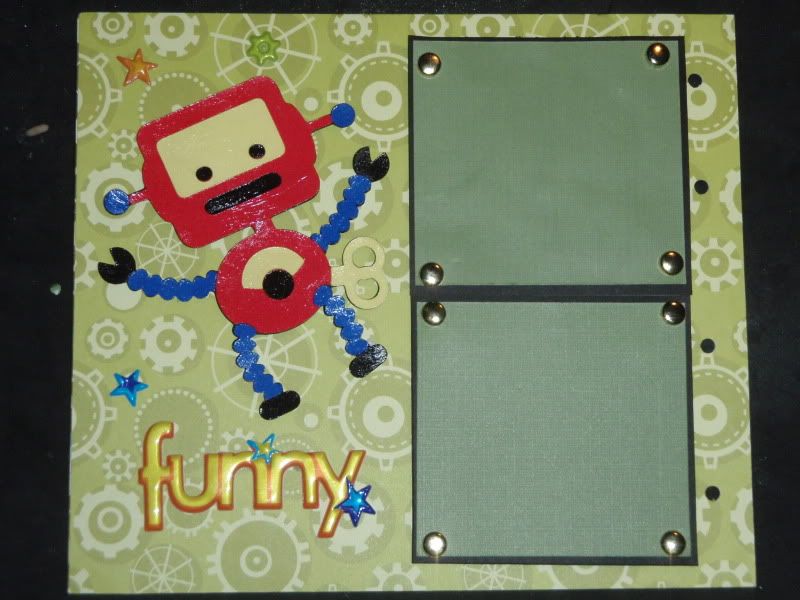 Materials

:

- DCWV "All About Boys" paper collection cut at 8.5 x 7.25", black cardstock cut into two 3.5 x 3.25" mats, green textured cardstock cut into two 3.25 x 3" mats, beige cardstock cut 3.25 x 7".

- Cartridge(s): B is for Boy (robot cut at 4")

- Adhesives: Glue Arts Glue Glider Pro, Zig 2-way glue pen, Mod-Podge, foam tape

-Embellishments: gold brads (3/8"), ATD stickers by My Momenta "Boys Will Be Boys."