Here's yet another rendition of this pancake recipe that I first used here back in February. One of the reasons I probably gravitate to this recipe is because it only makes enough for 2 with a couple of leftovers for snacking later. Also, it has buttermilk and I go through buttermilk kicks, as you know. This time I added bacon and swapped in some whole wheat flour. I wish I could find the bacon waffles recipes that I came across probably about a year ago, but since I didn't feel like looking for it in my recipe clippings, I had to wing it. The result was quite tasty and filling--suitable for lunch, brunch, or even dinner.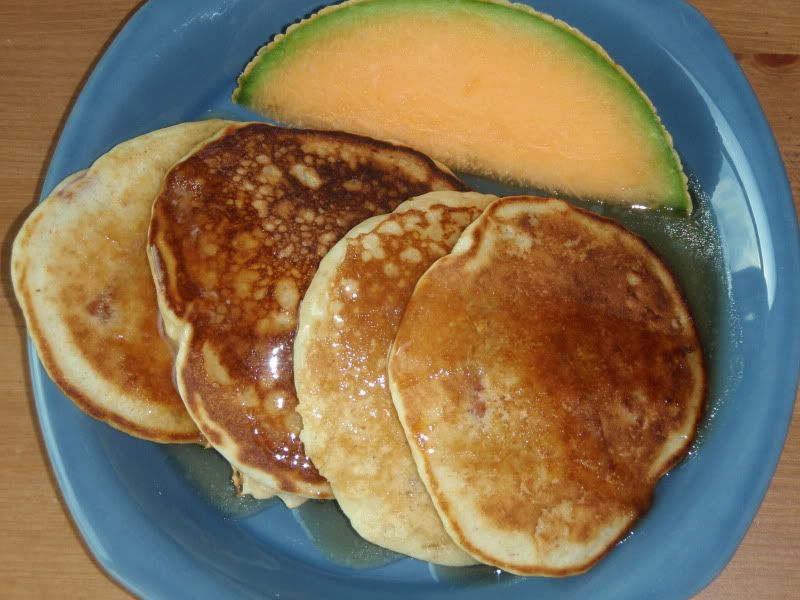 Ingredients
:
1/3 c whole wheat flour
2/3 c all-purpose flour
1 tsp baking powder
1/4 tsp baking soda
2 Tbs sugar
1/4 tsp salt
1 egg
1 c buttermilk
3 Tbs melted butter
4-6 strips of bacon, cooked and minced (I cooked mine under the broiler for 5 min)
Directions
1. Mix dry ingredients together.
2. Add butter around the edges. Make a well in the center for the egg and scramble slightly. Add buttermilk gradually while whisking the mixture together. Do not over-mix, but make sure to elminate all floury lumps. Stir in bacon.
3. On a preheated griddle (medium to medium high), drop two heaping tablespoons at a time for large mini pancakes. Cook about 3 minutes per side, flipping when visible side begins to bubble.
4. Serve with fruit and choice of syrup.
Serves 2-3