Morning! I think I will make it a goal to post a recipe weekly at
TheFishie's Kitchen
and a craft project most days at
TheFishie's Realm
. As you know, I have been on a huge card/scrapbooking kick and unfortunately have been neglecting this blog. I also have been super-behind on my recipe mags and have at least 3-4 that I haven't even removed from the plastic. I will be spending a lot of time on the train this weekend, so hopefully I will make a dent in them.
On the the recipe, which is probably why you're here. On my way home last night, I stopped at Whole Foods. On an unusual whim, I wandered by the meat counter, in front of the sausages, and went a little nuts, getting three different flavors! This recipe was made with raw pork andouille sausage, but any raw sausage will do. (I also bought Italian turkey sausage, which may go in a similar dish later in the week).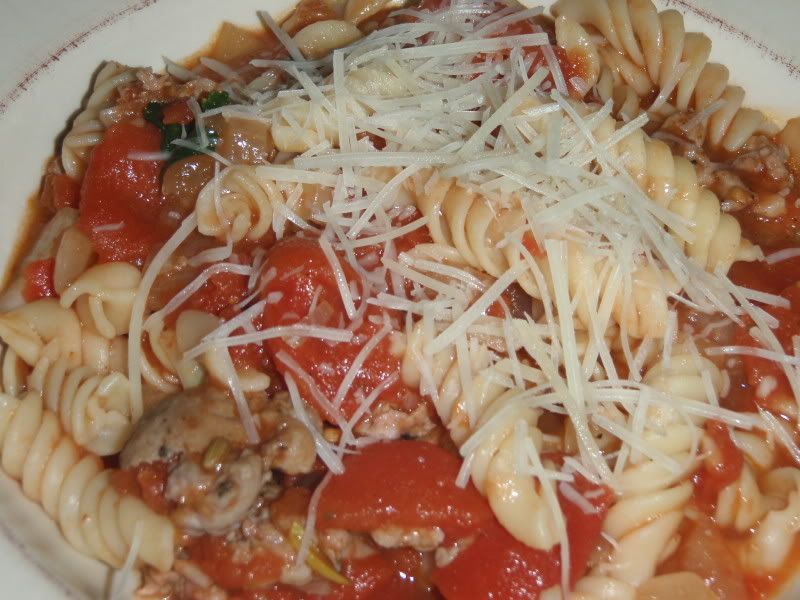 Printable Version
1/2 lb raw sausage (pork, turkey, your choice)
2-14 oz cans of whole or diced tomatoes
1 med onion, chopped (about 1 c)
2 shallots, chopped (about 1/3 c)
3 gloves garlic, minced (1 tbs)
1 tsp dried oregano
1/2 c fresh parsley
salt, pepper, olive oil
1/2 lb pasta
parmesan cheese to serve
1. Cook pasta according to package instructions until al dente. Do not over cook because you will want it to soak up some of the sauce.
2. Saute onions and shallots in olive oil until tender and beginning to brown. Sprinkle with sale.
3. Add sausage and garlic. (
NOTE:
Be sure to remove sausage from casing in order to crumble). Cook until browned.
4. Stir in tomatoes, oregano, and a sprinkle of salt and pepper. Bring to a simmer.
5. Cook on low for about 10-15 minutes until slightly thickened.
6. Add in pasta and parsley. Cook for another 2 minutes to give the pasta a chance to soak up some of the juices.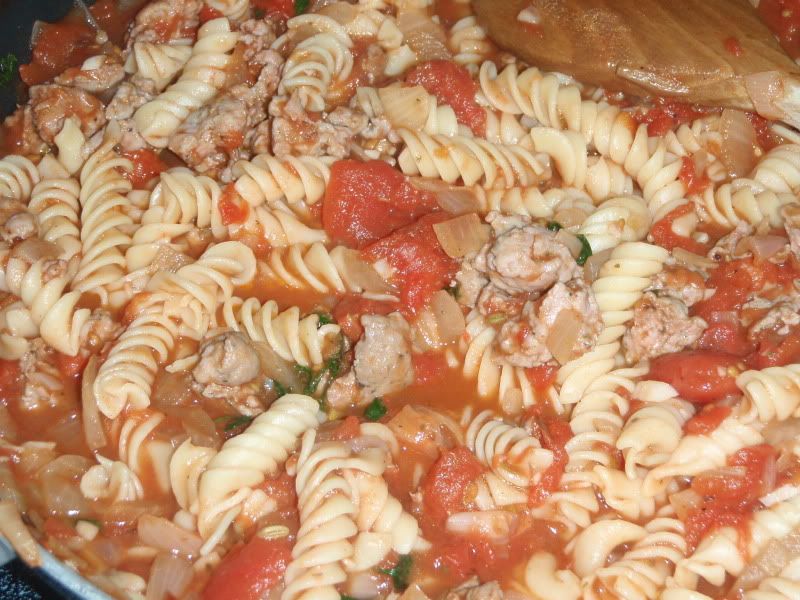 Serves 4-6 with a sprinkle of Parmesan.