No card today, but I've been doing some shopping. My auntie and sales have been fueling my Cricut addiction. This is what we're waiting to come in the mail: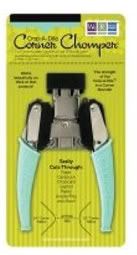 I don't think I've made a card in the last year without rounded corners. If I wait till the last minute and round the corners as a finishing touch, with my current mini punch I run the risk of not being able to fit the card into the punch slot because of the number of layers or a random thick embellishment. As I understand it, the We R Memory Keepers Corner Chomper will go through chipboard.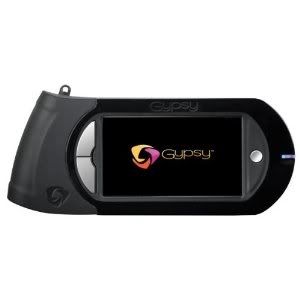 Yes, that's a
Gypsy
. I've had my Cricut Create less than 2 months and I'm already charging ahead to the next level. This nifty little gadget allows you to store all your cartridges in one place, similar to the idea of loading all your music CDs to your ipod. I will never have to insert a cartridge into my machine again as I can access them all from this little handheld. More importantly, the machine comes with great design features such as the ability to black out elements that I do not want (such as faces), so I can use nifty face stamps from
Peachy Keen Stamps
.
While I'm waiting for these two bigger items, I did a little shopping at what is fast becoming my fav scrapbook supplies store on the web:

.
Scrapbookpal.com offers free shipping for orders over $25!!! This is an incredible boon for me as other than Amazon where most scrapbooking supplies are priced to the max, I can find no other place on the web that requires such a low amount to obtain free shipping. They specialize in
Cricut Cartridges, Cricut machines, and other scrapbooking supplies
! While I'm trying not to buy a new cartridge until I've spent more time with the ones I have, I have bought an array of smaller items such as a variety of adhesives, punches, and embossing folders. Just this morning I took the plunge and bought....Copic markers because there's a sale right now that seemed too good to pass ($4.79 ea for the Copic Sketch markers). As you may know, I had begun a collection of the Tombow Dual brush markers which are much cheaper usually, but had been having difficulty finding the colors I wanted at a reasonable price. In other words, even if a pen costs $2, if I pay $5-7 in shipping, I'm not saving a lot unless I buy many many pens. Copics are widely touted on the net for their superiority and have a million colors, so I think this was a good investment.
Can't wait for the mail to arrive!