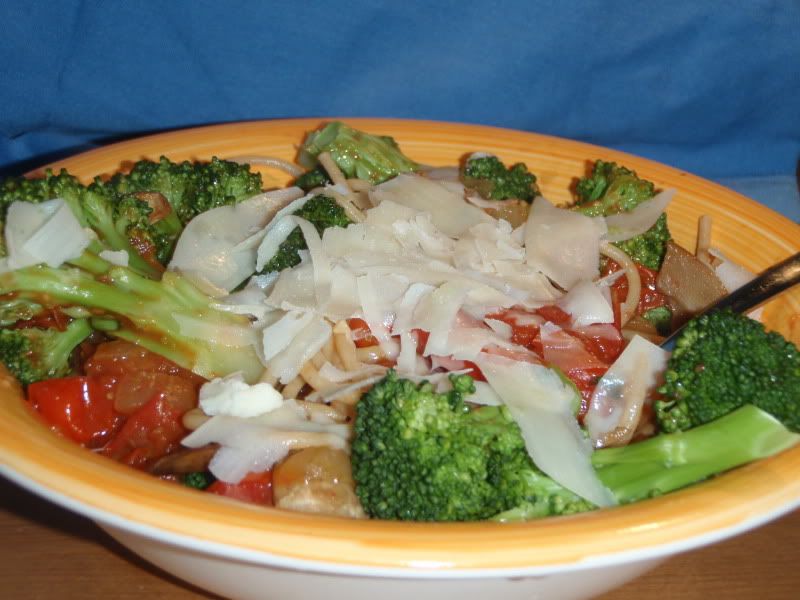 I was initially very hesitant to post this recipe as it involves a rather sketchy ingredient. I googled that ingredient with spaghetti and found a number of "depression-era" and 1960s recipes.

Then I tasted it. It's really tasty, so I had to share. If you think about it, I'm not too surprised that it added the taste I was looking for as it contains tomatoes, vinegar, onion, garlic, and other spices.

No guarantees that my results are capable of reproduction. This dish began by me discovering a lot of veggies in my fridge left over from last week that would soon go bad, especially the cherry tomatoes, and throwing them all together in the same dish. Yes, cherry tomatoes are not usually the first go to ingredient in a pasta sauce, but they worked. As for the questionable ingredient, I discovered that I didn't have any canned tomato sauce or tomato paste to loosen up the sauce, I improvised.

Any here goes--measurements are approximate as I tossed in what I had.
12 oz cherry tomatoes
10 oz sliced mushrooms
1 c broccoli, steamed
1/2 c diced onion (about 1/2 medium)
2 cloves of garlic, minced
1/3 - 1/2 c ketchup
1/2 c chicken broth (or more)
1 tsp dried oregano
1/2 tsp dried parsley
salt, pepper, olive oil
Toss tomatoes in salt, pepper, and olive oil. Roast in a 400 degree oven for about 15 minutes until the tomatoes begin to shrivel and can be smushed with gentle pressure.
Meanwhile, saute mushrooms in olive oil over medium until brown and most of the excess moisture has evaporated. Sprinkle with salt and pepper. Set aside.
Next, saute onion in olive oil until soften. Add garlic and cook for 1-2 minutes. Sprinkle with salt.
Add tomatoes, mushrooms, oregano, and parsley to the onion mixture. Cook on medium low for 5 minutes.
Stir in ketchup and chicken broth. Continue adding broth until the sauce is the consistency desired. Cover and simmer on low until pasta is ready and broccoli is steamed, about 10 more minutes.
Serves two
I had mine over whole wheat spaghetti with a sprinkle of parmesan cheese.