Jewel was having a two-for-one sale on boneless chuck roasts last weekend, so I couldn't help but pick up a couple. However, I couldn't decide what to do and didn't really feel like doing anything too creative, so I made a simple as can be roast. It was yummy! No gravy or additional seasonings required. One caveat should be made. While I cooked it for 8 hours, I was a tad late getting home from work, so it sat on warm for more than two hours. I do not recommend that! The meat is nice and moist right out of the crockpot, however I expect it will require a bit of doctoring upon reheat. Enjoy!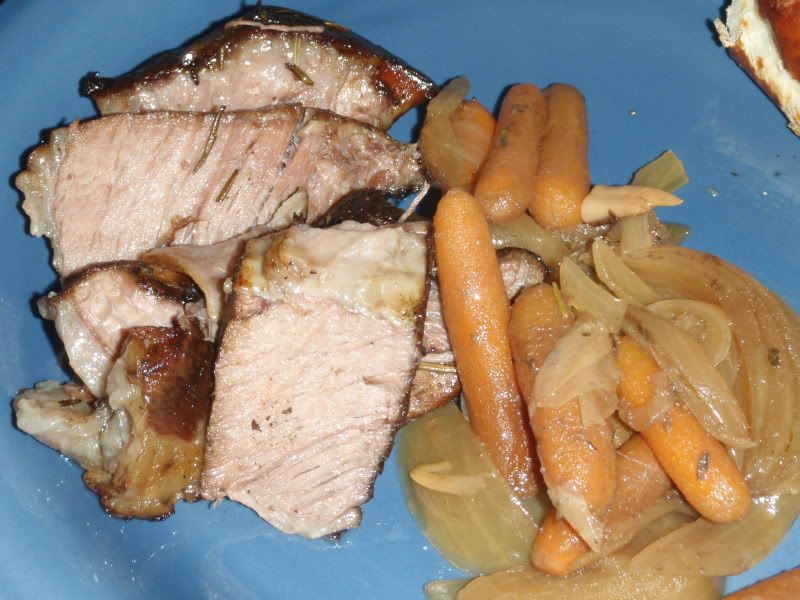 2 lb boneless chuck roast
2 c sliced onion, about 2 medium
8 cloves garlic, smashed and peeled but mostly whole
16 oz baby carrots
1 tsp dried rosemary
1/2 tsp dried tarragon
1 tsp salt
1 tsp pepper
3/4 c beef broth
Sprinkle meat with salt and pepper. Brown in an extremely hot pan in olive oil on all sides.
Place veggies in the bottom of the crockpot. Sprinkle with remaining salt and pepper.
Place meat on top of veggies.
Mix herbs with beef broth and pour over meat and veggies.
Cook on low for 8 hours until meat is tender.
Serves 4-6.