Yay. Finally a new recipe! It's not quite summer, but the start of the farmer's markets and graduation got me thinking about summer food, namely pies. However when an occasion arose to make a dessert, I didn't really have time to do a pie crust and peaches definitely aren't in season. Then the idea came to me to bake a crumble--no pie crust so it whips up faster with less carbs--but something that would taste a lot like a pie. I was initially inspired by this month's Bon Appetit which has some sort of crumble or crip, but not in the flavor's I wanted. So I hit the internet to find what I needed. The following recipe was adapted from this one here. I modified the measurements and added ingredients.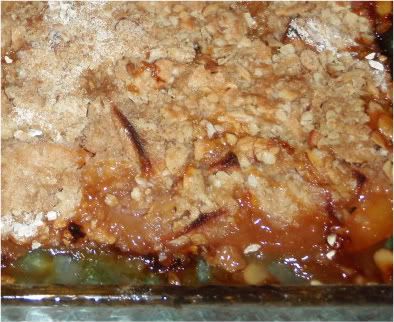 Fruit mixture
1.5 lbs peaches, sliced 1/2" (16 oz frozen will do, I used about a bag and a half)
1.5 lbs Granny Smith apples, or other tart apple, peeled and sliced 1/2" thick.
1/2 c granulated sugar
1.5 tbs cornstarch
1 tsp cinnamon
Juice of half a lemon (1-2 tbs)
1 tsp lemon zest
pinch of salt
Topping
1/2 c all-purpose flour
1/2 c brown sugar
1/2 c oatmeal (quick oats)
1/3 - 1/2 c thinly sliced almonds
1/4 c butter, cut into small pieces
1/2 tsp cinnamon
Directions
Preheat oven to 400 degrees.
Spray 10" square pan with cooking spray. (I made the recipe using a 9 x 13" and the result was a little thin.)
Combine the apples, peaches, lemon zest, lemon juice, granulated sugar, and cornstarch. Toss well and pour into baking pan.
Bake for 45 minutes until fruit is easily pierced with a fork.
Meanwhile all ingredients for topping. Use a pastry knife or your hands until the mixture resembles coarse sand.
Sprinkle topping evenly over the baked fruit. (NOTE: this amount of topping was more than adequate for my 9x13" pan. You may have leftover topping, which should be discarded.
Bake for 15 more minutes until topping is golden brown. (You may still have floury patches. Just cover the crumble with tin foil for about 10 minutes and the steam will do the work.)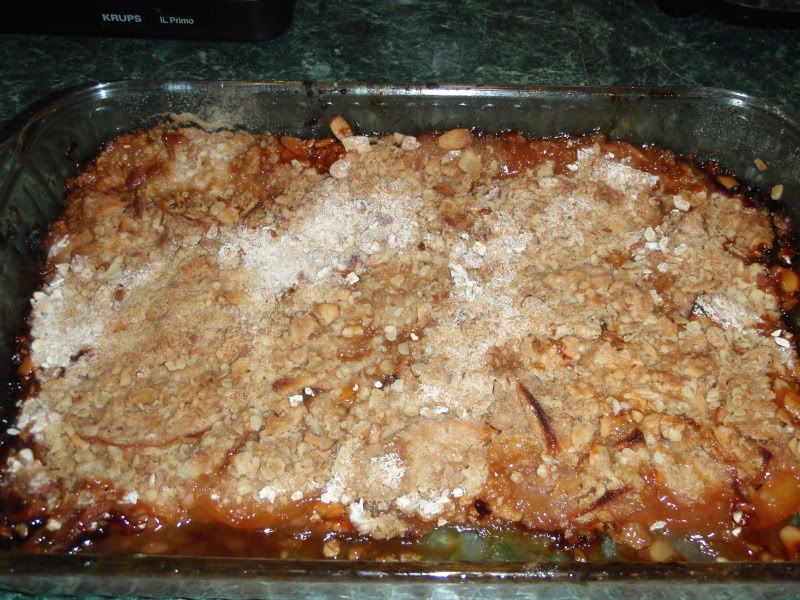 serves 6-8