A couple of months ago, I was thrilled to share this recipe for
Cinnamon Raisin Granola Bars
as a suitable alternative to spending lots of dollars a week on store-bought granola bars for my husband to snack on that had goodness knows what sort of preservatives in them. That recipe is modified from one posted at
Lynn's Kitchen Adventures
. Many batches later, I've added cranberries, cherries, raisins, pecans, and almonds, but you could add just about any sort of fruit and nuts (or chocolate chips), as well as wheat germ to up the nutritional ante. Here's my latest rendition, which was a hit at work this week: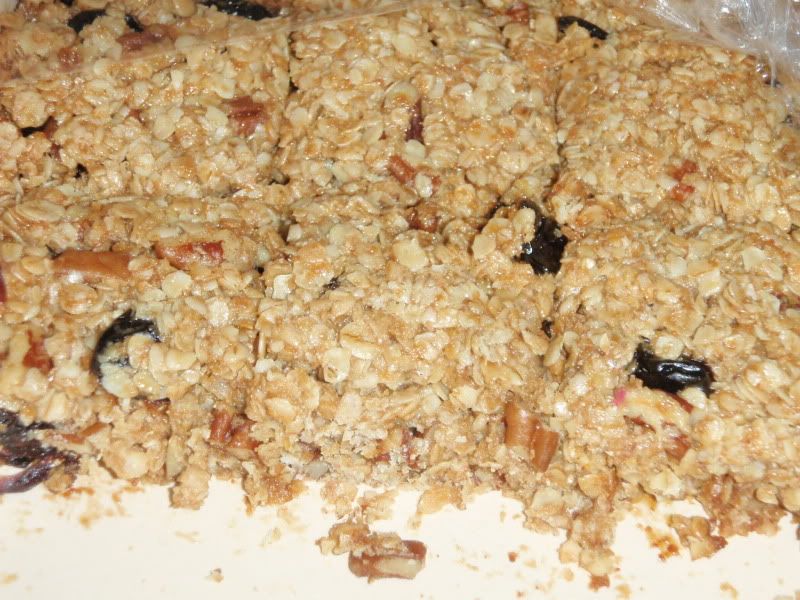 Ingredients
1/2 c butter
1/2 c brown sugar
2 TBS honey
2 TBS corn syrup
1/2-3/4 tsp salt
2 c oatmeal (I use quick oats, but regular would work)
1/4 c wheat germ (can omit and use more oatmeal instead)
1/2 c nuts of choice
1/2 c dried fruit of choice
Directions
Preheat oven to 350 degrees.
Melt butter, brown sugar, corn syrup, and honey over medium heat. Stir in oats, fruit, nuts, and salt.
Spread evenly into an 8" square pan that's been sprayed with cooking spray.
Bake 22-25 minutes until golden brown. (Note: I use a ceramic dish. A metal pan might brown faster, so check at 20 min).
Cool on wire rack in pan for 10 minutes before cutting. (I then leave in the pan to cool completely, but you could pop out on wire rack. It is, however, necessary to cut before completely cooled).
Makes 12-16 bars.