Welcome to another Sunday Supper Series post. I'm excited to share this recipe as it's modified from the
Our Best Bites'
cookbook, which I purchased from
Amazon
. If you're not familiar,
Our Best Bites
is an awesome food blog run by two moms. The book is simply gorgeous--plenty of colorful pictures, tips, and alternative instructions. Just on my initial read, I tabbed at least a dozen recipes to try.
For my first recipe, I tried their Chicken Cacciatore. I really have no idea whether this is a traditional cacciatore or not, but it turned out yummy which is all I care about. I did make some modifications from their recipe, namely that I did not puree the onions after I cooked them, although I did make an effort to cut them as thinly as possible. I also decreased the amount of apple juice called for, did not deep fry my chicken, as more or less directed by the 1/2 c of olive oil called for in the original recipe, and added my mushroom and peppers before simmering. Here's what I did: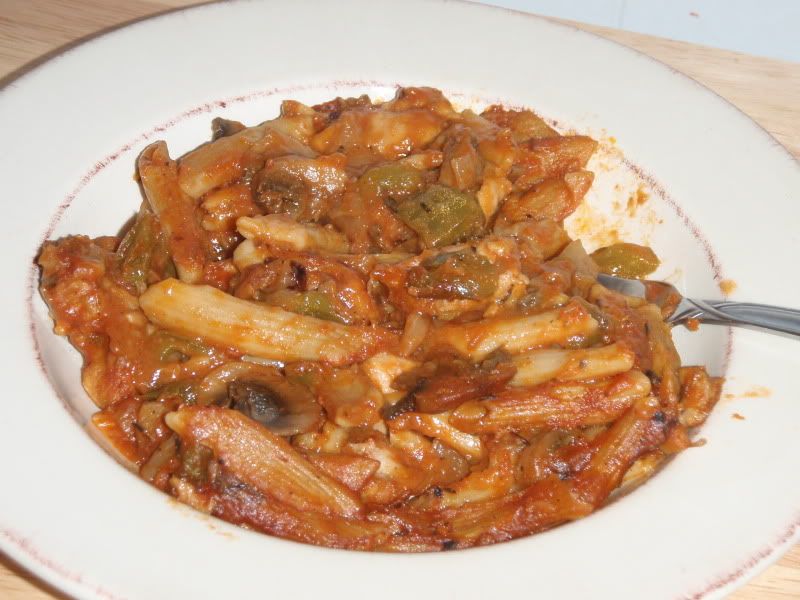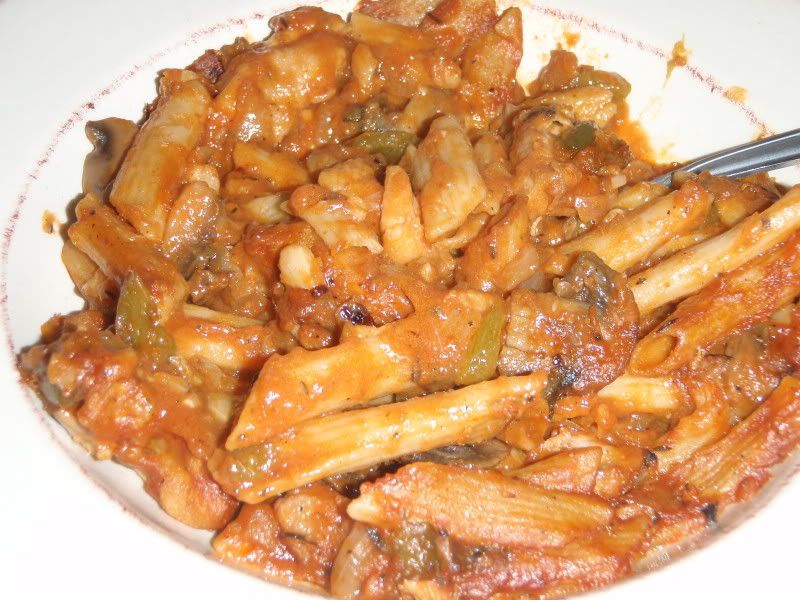 Ingredients
1.25 lb boneless skinless thighs, cut into bite-sized pieces
1/4 c all purpose flour
1 tsp salt
1 tsp pepper
1 medium onion, minced
4-6 cloves garlic, minced
1.5 c chicken stock
1/2 c apple juice
1 TBS white vinegar
1/4 tsp thyme
14 tsp majoram
1 bay leaf
6 oz tomato paste
1 med green bell pepper, diced
8 oz mushrooms, sliced
olive oil
Directions
:
Combine flour, salt, and pepper in a plastic bag. Shake chicken until well coated. Brown in olive oil, and then remove from pan.
Drizzle another coat of olive oil and saute onions until tender. Add garlic in the last few minutes.
Add tomato paste, thyme, majoram, bay leaf, vinegar, chicken stock, and apple juice to onions. Sprinkle with salt and pepper and stir until well combined.
Return chicken to pan, along with mushrooms, and green bell pepper. Heat to a near boil. Reduce heat to low and simmer, covered, for at least an hour. Adjust seasoning.
Remove bay leaf before serving over pasta. Alternatively, cook pasta a little short of al dente, drain, and add to cacciatore for last few minutes of cooking. This will allow the pasta to absorb some of the excess liquid.
(
NOTE
: I did add the pasta directly to the sauce, but I did not undercook the pasta first. This resulted in the pasta getting a bit mushy, which affects only the texture, not the taste).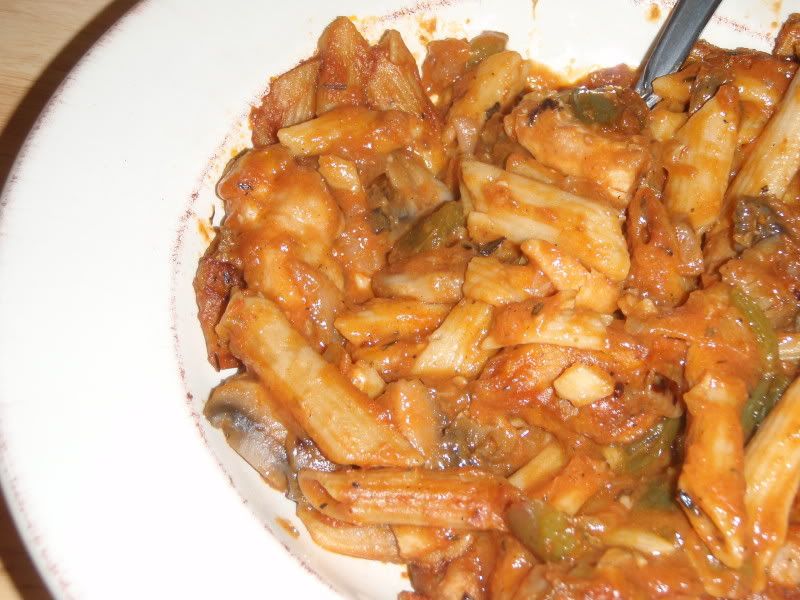 Serves 6