I can't believe this is my the twelfth Sunday Supper Series post. Three months, whoo-hoo! Okay, I know one post a week isn't too thrilling, especially since I once posted almost every day, but oh well. Since it's the twelfth post, today's recipe is a two-for-one. Two simple recipes in one post, both modified from recipes in a recent Everyday Food magazine. If you don't like brussels sprouts, You could substitute green beans.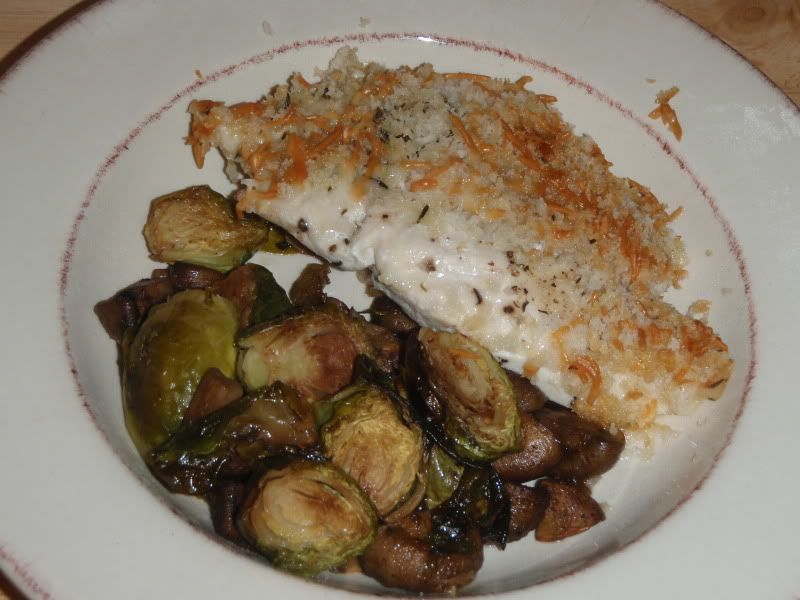 For the Parmesan Chicken Tenders
1.25 lb chicken tenders (skinless breasts cut at about 1")
1/3 c panko bread crumbs
1/2 c Parmesan cheese, shredded
1 tsp dried thyme
salt, pepper, olive oil
For Roasted Veggies
8 oz button mushrooms, halved or quartered
1/2 lb brussel sprouts, halved or quartered
1-3 tsp balsamic vinegar
1 tsp thyme
salt, pepper, olive oil
Directions
Preheat oven to 450 degrees.
Chicken Tenders
Sprinkle chicken with salt, pepper, and thyme. Place in a single layer in the bottom of a 9 x 13" baking dish or jelly roll pan. Drizzle with olive oil.
In a small dish, whisk panko breadcrumbs and cheese. Sprinkle over top of chicken. Drizzle another bit of olive oil.
Bake on the top rack, uncovered, for 20 minutes until chicken is cooked through and top is golden brown.
Veggies
In another 9 x 13" baking dish or jelly roll pan, place veggies in a single layer. Drizzle with olive oil and sprinkle with herbs and spices. Toss together.
On the bottom rack, roast for 20 minutes until veggies are tender and are beginning to brown. Check after 15 minutes and turn if you want to avoid charring (I like, however, like the bit of charring :).
Remove from oven and drizzle with balsamic vinegar before serving.
Serves 4