Fried rice seems like such a decadent treat, but depending upon whether it's a side dish or main dish, how much fat and salt you use, it may be a fairly nutritional meal. I tend to make it to use up leftover brown rice, meat, and/or veggies. As you will see, the recipe is super simple--mix it all up in a pan with soy sauce, pepper, some sort of fat, and an egg or two to bind it all together. How simple?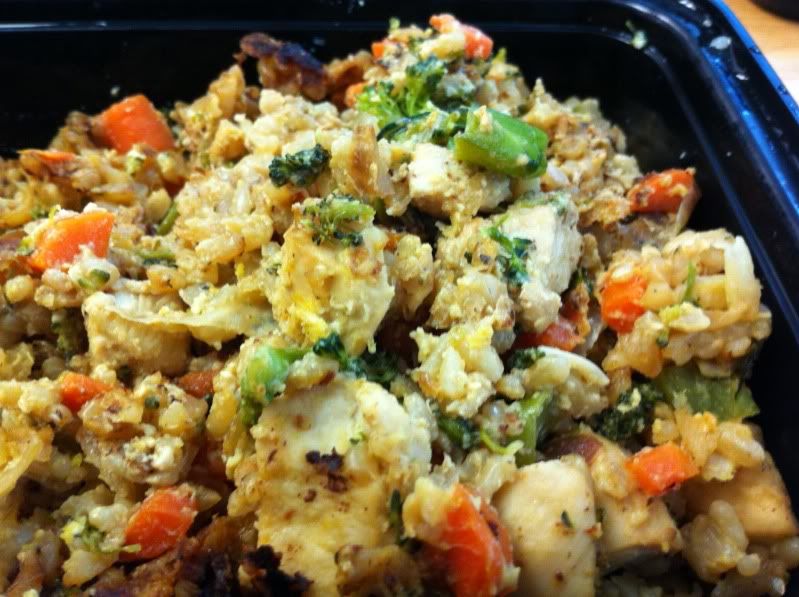 .5 - 1 lb uncooked skinless chicken breast or thighs, diced
1 medium onion, diced
2 medium carrots, diced
4 cloves garlic, minced
2 c cooked rice (I use brown, but white will do)
1.5 c broccoli, chopped
~1/4 c soy sauce, divided
Fresh ground pepper
1 egg
olive oil
1 tbs butter, if desired (alternatively a splash of chicken broth)
In a large skillet with a high rim, saute carrots and onions in olive oil until they begin to soften. If using uncooked meat, push veggies off to the side and cook chicken sprinkled with a tablespoon or two of soy sauce in the center of the pan, adding the minced garlic, and stirring the mix together when the chicken is browned on one side.**
When the meat is cooked, add broccoli or other uncooked veggie and stir mixtures together until veggie begins to soften. Sprinkle with pepper.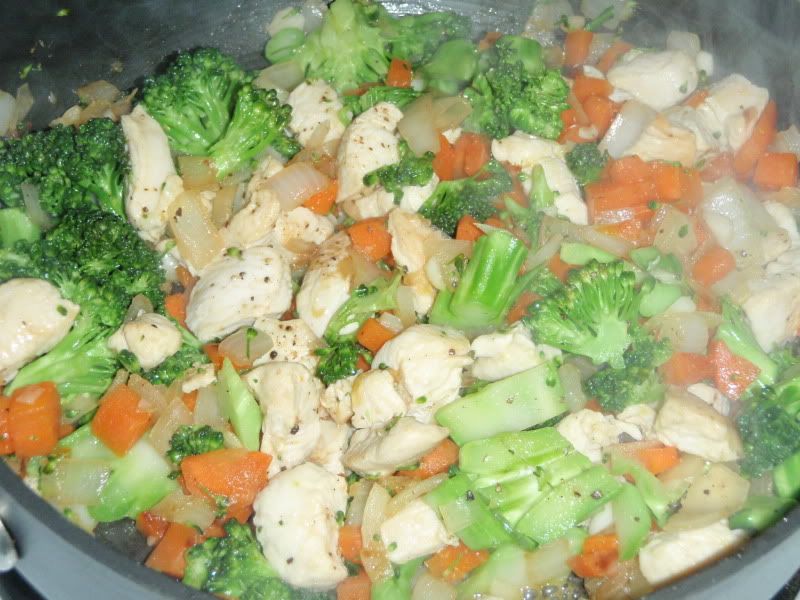 Pour cooked rice on top of meat and veggie mixture and liberally season with another couple of tablespoons of soy sauce. (My rule of thumb for making fried rice is to use a little more soy sauce than I would put on white rice that I would eat as a side dish. If you are unfamiliar with soy sauce, start with 2 teaspoons at the first step and 1 tablespoon at the second step. You can always add more at the table.) Add butter or splash of chicken broth and mix together.
Add egg, slightly beaten to rice mixture, mixing well to coat. Cook on medium for another 5-10 minutes until egg is done. (I like a little crust on the bottom of my fried rice.)
Serves 3-4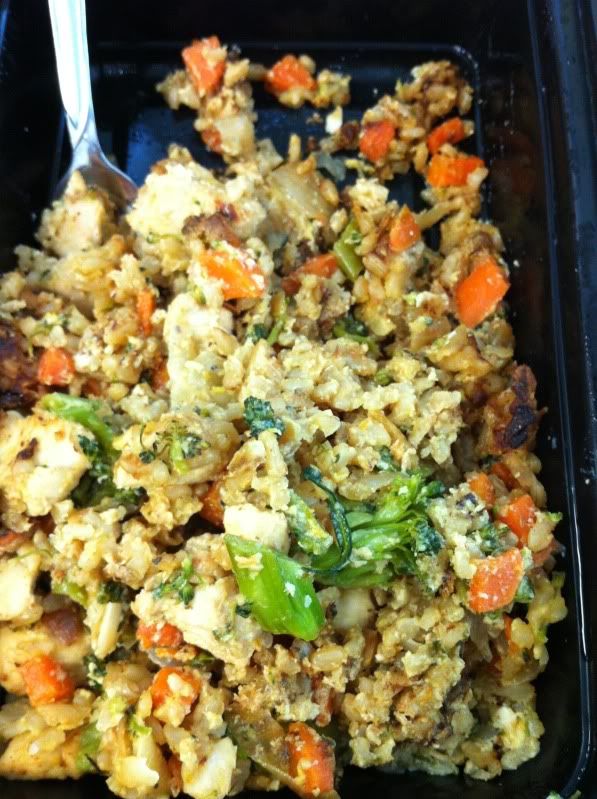 **
Notes
:
If you are using cooked meat and veggies, saute onions and carrots until softened and beginning to brown. Add garlic in last minute of cooking. Add cooked meat and veggies, season with a tablespoon of soy sauce, and cook a few minutes until heated through. Then proceed to follow the rice and egg steps.