Hi everyone. Today's dish is an awesome recipe for shoyu chicken that can be made in the slowcooker. This dish whips up with minimal effort, cooks quickly, and yields a tasty result. Hmmm, cooks quickly, you say? I thought the point of a slowcooker was so you could set it in the morning and have dinner waiting in the evening. Well, it doesn't work that way because chicken cooks far too quickly (this dish is done in 4 hours). However, it's perfect for that weekend dinner where you don't roll out of bed until noon, have a bunch of errands and other things to do during the day, and still want a home-cooked meal waiting for you that evening with minimal effort.
I found this recipe posted on a few blogs, including
Lynn's Kitchen Adventures
and
Full Bellies, Happy Kids
as Slow Cooker Sticky Chicken. I renamed it for a couple of reasons. First, I didn't do the second step that makes the chicken "sticky" and entails putting the cooked chicken under the broiler with a sauce that I didn't make. Second, if you grew up in Hawaii and I served you this dish, you would immediately call it Shoyu Chicken. ("shoyu" = soy sauce). This dish reheats very nicely, as well. As you can see from the picture, I turned it into a box lunch for work. Enjoy!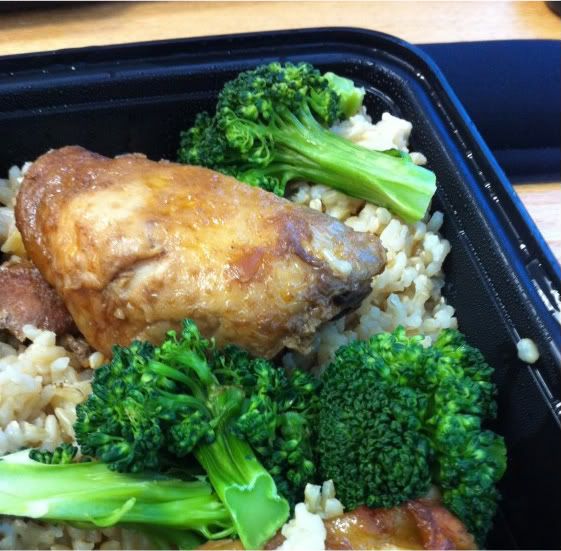 Ingredients
1.5 - 2 lbs chicken pieces
1/4 c brown sugar
2 TBS soy sauce
4 cloves garlic, minced
1/2 tsp cayenne
1 tsp ground ginger
Directions
Place chicken in the bottom of the slow cooker. Mix remaining ingredients and pour over chicken. Turn chicken a few times to coat. Cook on low for 4 hours, until chicken is cooked through.
So long as you don't cook it too much longer than necessary to cook the chicken, it will stay in one piece when you remove it from the slow cooker.