I was absolutely positive that I took several pictures of these after they came out of the oven and before I took them to work. However, when I went to upload them, there were none. Guess I imagined it. Anyway, this single muffin was one of two that were made in a second pan after I filled my 12-muffin tin. Since it was a darker metal, the two muffins browned faster. The bottom line is that the ones you're not seeing were prettier, but they all were tasty (I had 3 yesterday :). This recipe is adapted from blueberry crumb muffins in the Modern Baker by Nick Malgieri. I skipped the crumb topping and added oatmeal.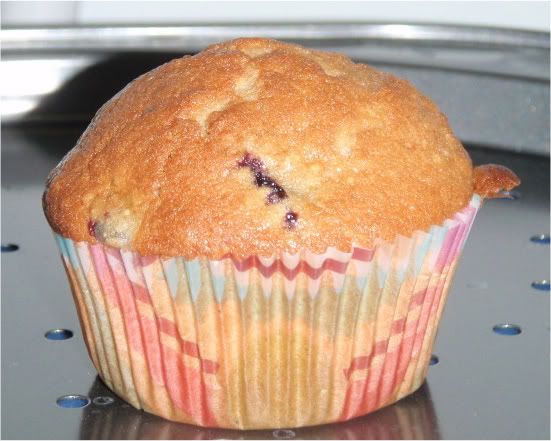 2.5 c all purpose flour
2 tsp baking powder
1/2 tsp cinnamon
1/4 tsp salt
1/2 c butter, melted
1/2 c brown sugar
3/4 granulated sugar
2 eggs (1 egg + 2 whites)
1/2 c skim milk
1/4 c half and half
1 pint frozen blueberries
1/2 c oatmeal (quick cooking)
Preheat oven to 375.
Whisk together flour, salt, baking powder, and cinnamon in a small bowl.
In stand mixer, beat together sugars and butter until well-mixed and fluffy. Add in eggs, one at a time.
Mixing on medium, add in half of flour mixture. Scrap down bowl, as needed.
Mix in milk, half and half, and remaining flour, beating until thoroughly moistened.
On low, add in blueberries and oatmeal. Pulse (or speed up) mixer a couple times to mush some of the blueberries.
Divide evening into muffin cups. Tap pan on counter to eliminate air bubbles.
Bake for 25-30 minutes until a tester comes out clean.
If desired, sprinkle with a couple teaspoons of sugar and cinnamon as soon as they come out of the oven.
12-14 servings