I'm trying to get posts scheduled through the week since my auntie is coming to visit tomorrow! Actually, she doesn't arrive until after midnight Thursday morning, but since I likely won't have gone to bed yet, we'll say that she's arriving on Wednesday. Anyway, here's a simple card made using Create a Critter and some more flocking. I messed up the flocking a bit, but it isn't too noticeable unless you're looking for it. The orange flowers were intended to pick up bits of orange in the patterned paper, but then I covered most of them up and in retrospect could have used a solid ribbon. I really like how the pink card stock offsets the deeper pink flowers. I also Mod-Podged the entire turtle to give him a gloss sheen and popped him up with foam tape.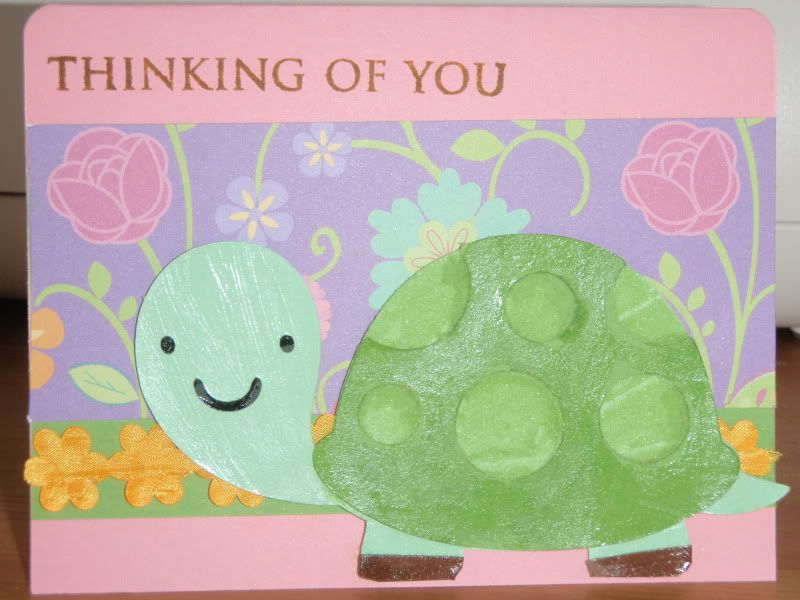 Materials:



- A2 pink card base

- Pattern paper cut 5.25 x 2"

- Create a Critter Turtle p. 64 cut at 2 inches

- Adhesives: Glue Arts Glue Glider Pro, foam tape, Zig two-way glue, Mod-Podge

- Ribbon from my stash

- Message from Hero Arts stamp collection called "Everyday Sayings"