I finally joined the
Greeting Farm
stamps craze. These two came in the mail yesterday:
They're called Flapper Anya and Fleur Anya. I finished coloring Flapper Ana already and hope to add it to a card to post tomorrow.
I also purchased these two in digital form:
50s Sweetheart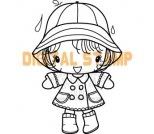 HG Rain
Check back for cards using these gorgeous stamps.