I have no idea where I got this recipe from as I found it scribbled down in a composition book where I used to write/paste all my recipes--this was before I subscribed to 10 different cooking mags and trolled food websites and blogs. I wanted to use up some buttermilk and make the recipe a little healthier, so I sub'd in some wheat flour and did my usual egg trick. One key change that I'm noting below--the oven temp called for in the recipe was 375 degrees with a suggested baking time of 30 min. I kept the 375, but decreased the baking time to 25 min, however I still think they're a tad over-done. Thus, I'm going to write 350 in the recipe with a cooking time of 25-30. Just make sure to do the spring test with your finger or use a toothpick.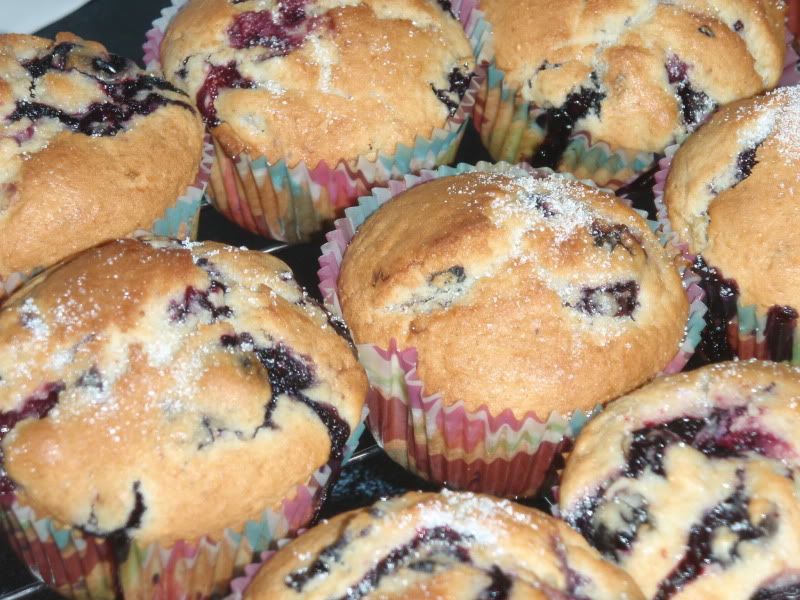 Ingredients
1 1/4 c all purpose flour
3/4 c whole wheat flour
2 tsp baking powder
3/4 tsp salt
1/2 c butter, soften
3/4 c sugar (recipe called for 1 c, adjust depending on sweetness of berries)
2 eggs (2 egg whites + 1 egg)
1/2 c buttermilk (I added a splash more to get the consistency I wanted)
2.5 c blueberries
Topping
2 Tbs lemon juice
1 Tbs sugar
Directions
1. Preheat oven to 350 degrees.
2. Cream butter and sugar together until lightly and fluffy. Beat in eggs and vanilla.
3. In a separate bowl, whisk together flours, baking powder, and salt. Add to butter mixture with buttermilk, mixing until smooth.
4. Add blueberries and combine well. I raise the mixer to high for a couple of pulses to mush up a few of the berries.
5. Fill muffin cups 3/4ths full.
6. Bake 25-30 minutes until golden brown and cooked through.
7. Brush with lemon juice and sprinkle with sugar immediately upon removal from oven.
8. Cool on rack.
Makes 12-15 muffins.