I don't recall where I got the urge to make manicotti. Something about filling cute little tubes with cheesy/spinachy goodness sounded fun. However, I made a couple unfortunate miscalculations. First, I used fat free ricotta as my only cheese in the filling. It's too dry. Second, I guess I skimped on the sauce and/or over-cooked it a bit. The end result is still tasty, but is a tad dry and not photogenic.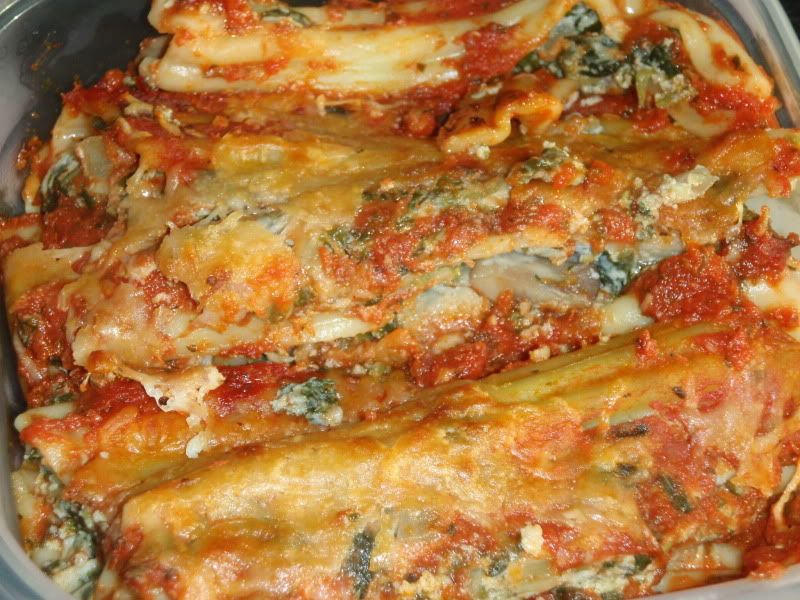 Ingredients
8 oz uncooked manicotti, cooked to al dente
8 oz spinach
1 c chopped onions
10 oz mushrooms, sliced
5 cloves garlic, minced
15 oz ricotta
2 eggs
1/3 c chopped fresh basil
8 oz shredded cheese (e.g. parmesan, monzarella)
12 oz prepared sauce
olive oil, salt and pepper
Directions
1. Saute onions, mushrooms, and garlic until tender. You could do them separately or all in the same pan. The former might yield better results.
2. Wilt in spinach. If using frozen, defrost and drain before adding. Allow mixture to cool.
3. In a separate bowl, combine ricotta, eggs, basil and a handful of shredded cheese. Generously season with salt and pepper. Add in spinach-mushroom mixture.
4. Using a plastic bag with the corner snipped, fill each manicotti shell.
5. In a 9 x 13" pan, pour 1 c sauce. Add in filled shells. Top with remaining sauce and a sprinkle of cheese.
6. Bake covered in a 350 degree oven for 30 minutes. Uncover and cook for another 10 or until cheese is browned.