Last week
I got into trouble at the sausage counter at Whole Foods. Here's another recipe this time using spicy turkey sausage and chicken. I added no seasoning except for salt and pepper, yet the dish took on tons of flavor from the sausage, onions, and garlic. It's liquidy enough to be a soup served with a piece of crusty bread, although I will likely have it with pasta. The tomatoes made my dish sweet an the spiciness will depend on your sausage.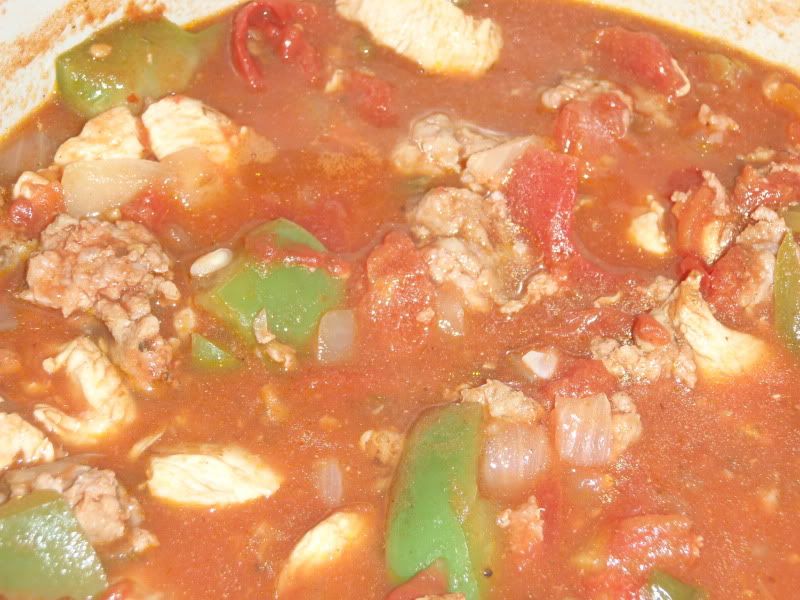 Printable Version
Ingredients
1/2 lb raw spicy turkey sausage (remember to cut off skin if crumbling)
1 large chicken breast, chopped into 1" pieces
1 green pepper, sliced into 1" x .5"
1 medium onion, chopped (about 3/4 cup)
5 cloves garlic, minced
1 can (15 oz) stewed tomatoes
1 can (15 oz) whole tomatoes
salt, pepper, olive oil
Directions
1. In a small dutch oven, heat oil over medium heat. Saute onions until almost completely tender.
2. Add in garlic, chicken, and sausage. Stir the sausage gently to break it up along the outside. (The chicken should sit for a minute so it doesn't tear).
3. Once the chicken appears cooked, add in tomatoes.
4. Simmer on low for 20 minutes.
5. Serve with pasta and a sprinkle of parmasean.
Serves 4-6