Happy Saturday! I have been seriously behind in my Halloween cards. I am going to try to do nothing but for awhile until I get them done. I don't know whether I will be able to stick to it every single day as I'm working on a couple of other projects, but I will try. I made two Frankenstein cards both on A2 card bases. I made the larger one first, then scaled it down. The instructions below are for the smaller guy.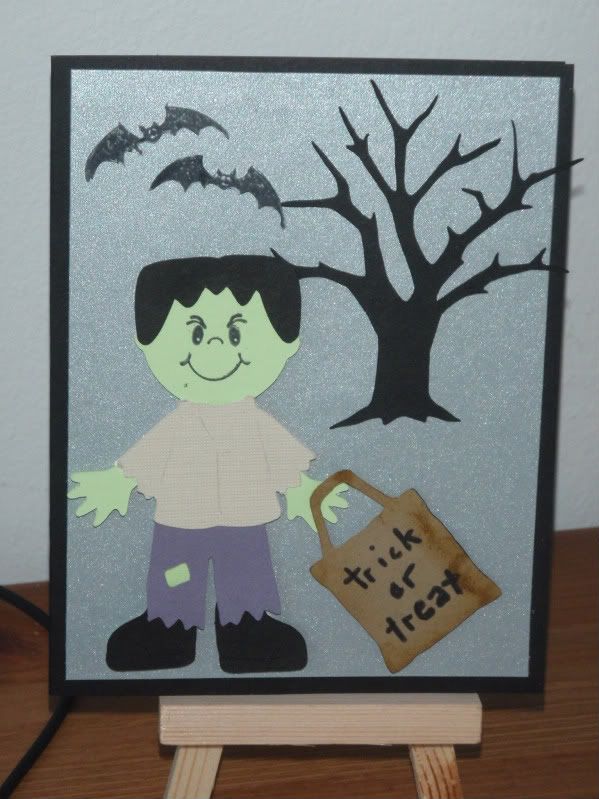 Materials

:

- Paper: A2 card base; two pieces of cardstock, one for the lining and one for the background paper cut 4 x 5.25".

-Stamp(s): Peachy Keen Stamps "Basic Paper Doll Faces" (PK-573), stamped using Memento ink. Bats are from a holiday stamp set from last year--no idea on manfg.

- Adhesives: Glue Arts Glue Glider Pro, Zig two-way glue pen, foam tape.

- Cartridges: Paper Doll Dress Up (frankenstein and clothes at 3.5", bag at 4", tree at 3")
Here's the first one. I had to cut down the tree to make it fit, which is why I've provided directions for the smaller one.