Sorry for the lousy pictures. Once again, I forgot to take pictures before I bundled up the goodies and took them to work. Thus, these were shot in the office with my Iphone. I wanted to make something decadent for a Friday treat. It was also my co-worker's last day, so something a little more special was required. This recipe is adapted from one I clipped from a British Mag called Fresh. I have no idea when I clipped this recipe.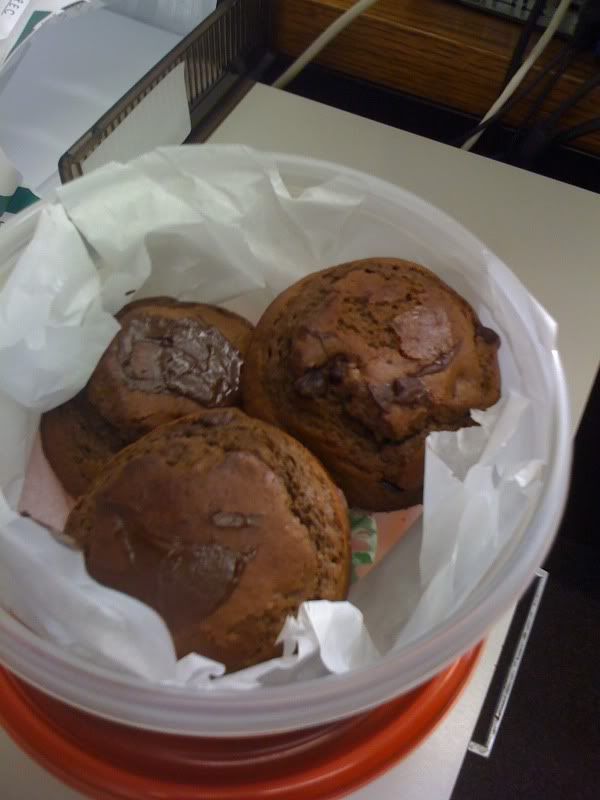 Printable Version
Ingredients
250 g all-purpose flour
25 g cocoa powder
4 tsp baking powder
150 g granulated sugar
6 oz skim milk
1 egg and two egg whites, slightly beaten
100 ml (3.5 oz) canola oil
1/2 c chocolate chips (plus an extra handful, if desired)
Directions
1. Preheat oven to 375 degrees.
2. Sift dry ingredients together.
3. Using a hand mixer or stand mixer, mix together wet and dry until you have a fluffy cake batter mixture. I use a spatula to wet all the dry ingredients, then turned the mixer on a higher speed for about 15 seconds.
4. Pour into a prepared muffin pan--6 big muffins or 12 regular.
5. Bake for 25 minutes, then check for springiness or with a toothpick.
6. Cool for 5 minutes in tins, then completely on a wire rack. Before removing from tin, I decorated the muffins with a few chips. After the chips had melted, I used a knife to smear the chocolate for a glaze.
Makes 6 large muffins or 12 regular muffins.