This recipe was inspired by a crockpot recipe from Stephanie O'Dea that can be found
here
. In the future, I will probably try it in the crockpot for a longer roasting time, although you generally have to babysit chicken in a crockpot because chicken falls apart much faster than beef. I omitted the paprika (mainly because I forgot it). Super simple, plus it fills the house with yummy roasted garlic smells. Tonight, I will probably serve this with a simple veg and starch.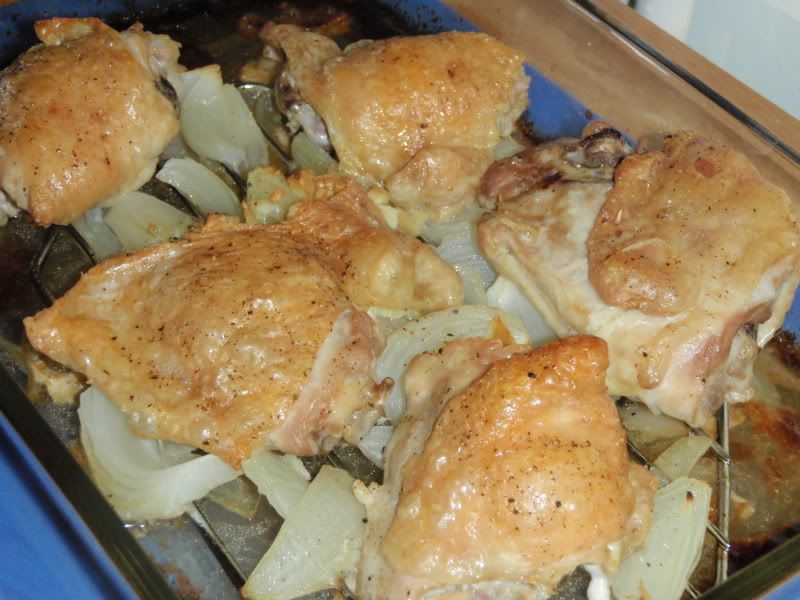 Printable Version
2 lbs chicken pieces
2 medium onion, sliced (about 1.5 cups)
1 head of garlic, minced (or a handful of cloves whole)
1 tsp each of salt, pepper, paprika
Drizzle of olive oil
1. Preheat oven to 375 degrees.
2. In a baking pan of appropriate size (I used 9 x 13"), layer onions, garlic, and chicken on a rack.
3. Drizzle with olive oil and sprinkle with spices.
4. Cover with foil and bake for 1 hour.
5. Uncover and cook until browned, about 15-30 minutes.
Serves 4.