What an absolutely beautiful, fall-like, Sunday morning. Apologies for the overdue post, but if you follow
my crafts blog,
you know I've been busy with holiday cards and other goodies. I had planned to make this recipe on Tuesday, but didn't get around to it until Saturday evening. I was lucky the milk was still good since I bought higher fat milk (2%) just for this recipe. Here's what I made: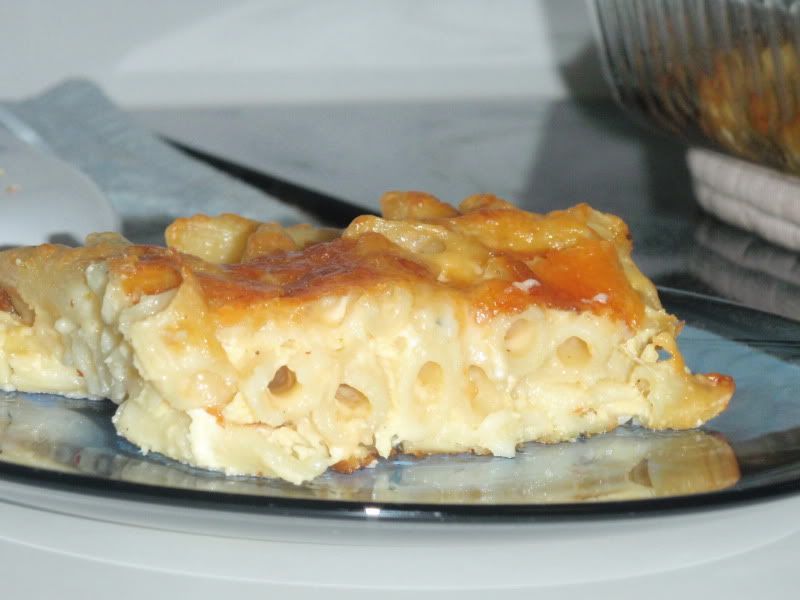 Printable Version
Ingredients
1.5 c Gruyère, shredded
1.75 c cheddar, shredded
2 c 2% milk
3 tbs butter
3 tbs flour
1/2 tsp salt, pepper
1 tsp basil
3/4 lb penne pasta
2 eggs, slightly beaten
Directions
1. Preheat oven to 350 degrees.
2. Cook pasta until al dente. Drain.
3. In a sauce pan, melt butter over medium heat. Whisk in flour. Form a roux and cook for 1-2 minutes.
4. Whisk in milk. Cook while stirring until mixture is bubbly and thickened. This may take around 5 minutes.
5. Reserving about a cup (good handful of both cheeses) stir in cheeses, pepper, and basil. Continue stirring and cooking until smooth and creamy.
6. Mix cheese sauce, 2 eggs, and penne. Add salt and a little more pepper, if desired.
7. Pour mixture into a 9 x 13" pan that has been sprayed with cooking spray. (This would probably fit in a 9" square because it makes a thin layer, but that allows it to cook faster.)
Sprinkle with reserved cheeses.
8. Bake, uncovered, until cheese on top has melted to a golden brown and liquidness has evaporated, about 30 minutes.
Serves 4-6