Here's a recipe that I found on the back of a Hershey's Special Dark bag of chips. I modified it slightly to make it more interesting and slightly healthier. I was initially worried about so much butter and so little rising agent, but they came out just fine. They're definitely firmer cookies, which I like. Be careful not to overcook, as I imagine they would get hard.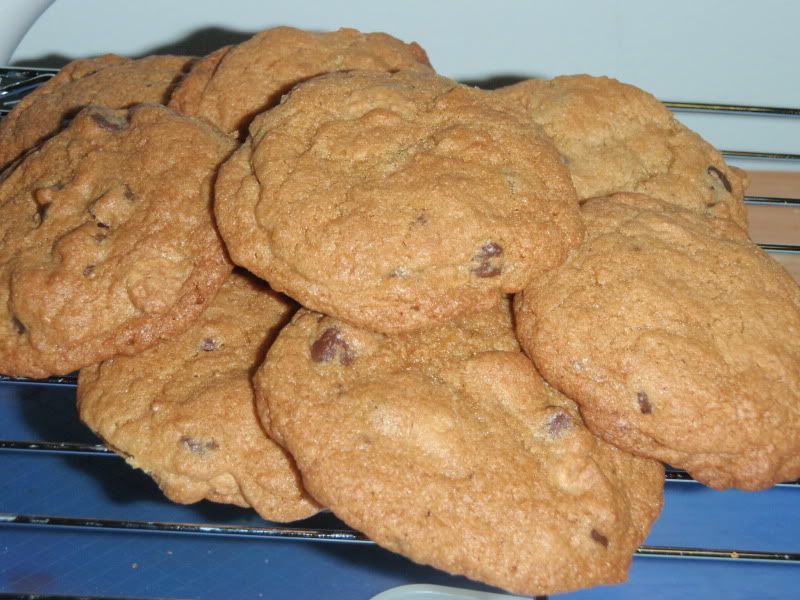 Printable Version
1 c butter, softened
3/4 c brown sugar
3/4 c granulated sugar
1 egg and 2 egg whites
1 tsp vanilla
1 c whole wheat flour
1.25 c all-purpose flour
3/4 tsp salt
1 tsp baking soda
1/2 c peanut butter chips
1/2 c chocolate chips
1/2 c nuts, if desired
1. Preheat oven to 375.
2. In a separate bowl, sift together flours, salt, baking soda. (This step probably is not necessary, but I was in a sifting mode).
3. In the bowl of your stand mixer or other mixing bowl, cream together butter and sugars. Add eggs and vanilla. Beat until fluffy.
4. Slowly incorporate wet and dry mixtures.
5. Add in chips and nuts, if using.
6. Using a cookie scoop about 1 - 1.5 TBS in capacity, drop dough onto cookie sheet covered in parchment paper about 2 inches apart.
7. Bake 8-10 minutes, until nicely golden brown.
8. Allow to cook on cookie sheet for 2-3 minute before transferring to a wire rack to cool completely.
Makes 4 dozen 2 inch cookies.