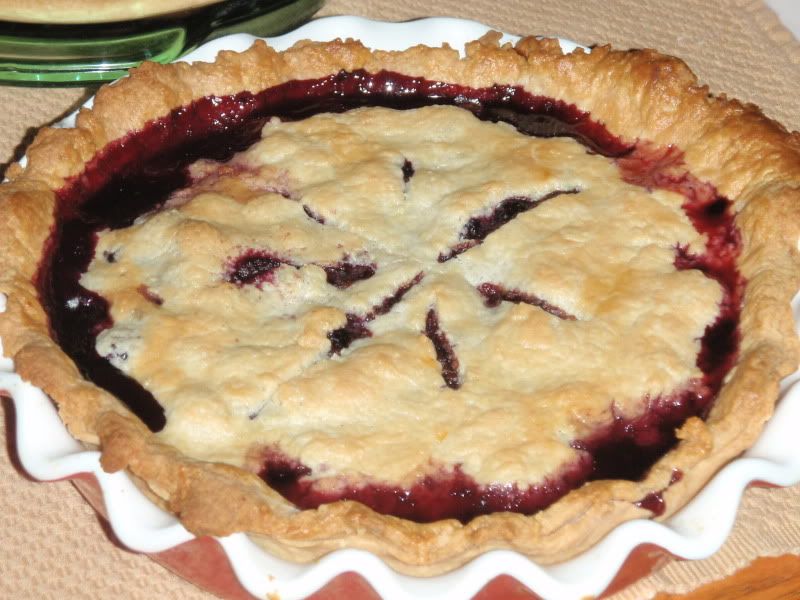 Dough for a double pie crust
32 oz frozen or 4 cups fresh blueberries
1 Tbs. fresh lemon juice, strained
3⁄4 cup sugar
3 Tbs. cornstarch
1⁄2 tsp. finely grated lemon zest
1⁄4 tsp. salt
1⁄4 tsp. ground cinnamon
1 Tbs. cold unsalted butter, cut into small pieces
1 egg beaten with 1 T of water
1. Preheat oven to 375 degrees.
2. Allow dough to come to room temperature before rolling out--dough should be rolled at least 2 inches larger than the size of your pie pan.
3. Toss blueberries with lemon juice, zest, sugar, salt, corn starch, and cinnamon. Dot with butter.
4. Pour blueberry mixture into one layer of the pie dough. Top with reserved pie dough, formed into a lattice or whole with several slices in the middle to allow steam to escape.
5. Brush crust with egg mixture.
6. Bake for 45 minutes up to an hour until golden brown and bubbly.
Serves 8.