This recipe has been adapted from one that appeared in a recent Rachel Ray magazine.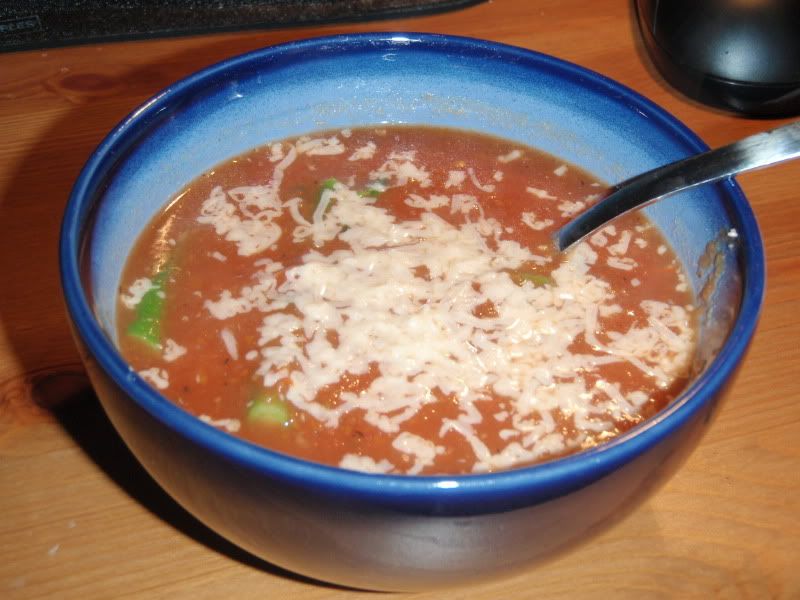 2 small carrots, chopped
2 medium celery stalks, chopped
1 medium onion, chopped
3 cloves garlic, finely chopped
1 tsp dried oregano
28 oz diced tomatoes
14 oz fire-roasted tomatoes (do NOT use the TJ variety with chiles)
3 cups chicken stock
2 bunches broccolini, about 2 cups, cut into 2 in pieces
salt and pepper
Gruyère or Parmesan cheese to serve
In a medium pot or dutch oven, heat olive oil over medium heat. Cook carrots, celery, and onion with oregano until slightly soft, about 5 minutes. Add garlic and cook for another minute. Season with salt and pepper. Add the tomatoes and stock and bring to a simmer. Cook, covered, about 20 minutes until the veggies are tender.
In a separate pot, bring 2 inches of salted water to a boil. Cook broccolini and cook until crisp-tender, about 4 minutes. Drain.
Using an immersion blender, puree the soup. (At this step I added another cup of chicken stock as the Rachel Ray recipe only called for 2 cups originally.)Season with additional salt and pepper. Stir in broccoli.
Serve with grated Gruyère or Parmesan cheese.
Serves 4-6.