I've used this recipe since I first started doing Thanksgiving dinner in 2002 or 2003. The recipe appears in a November 1998 Bon Apetit, but since I didn't subscribe to that mag in 2002, I don't think I got it there. I absolutely love this recipe because of the richness the balsamic vinegar provides.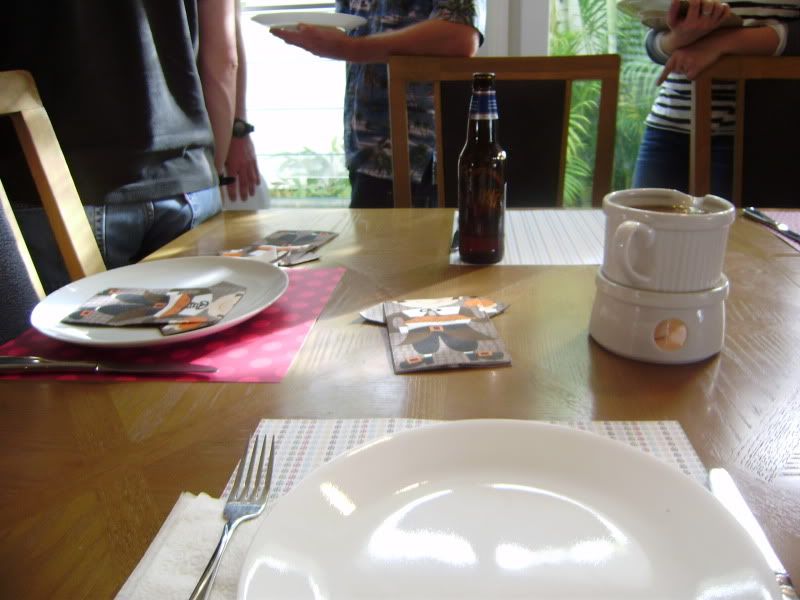 I was running out the door with the turkey this year, and completely forgot to take a picture of the gravy in all its glory. Maybe next year.
5 1/2 cups chicken broth
1 onion, quartered
1 bay leaf
6 tablespoons butter
2 cups onions, halved, thinly sliced
1 tablespoon plus 1 teaspoon chopped fresh rosemary
1 tablespoon plus 1 teaspoon chopped fresh sage
1/3 cup all purpose flour
1/2 cup balsamic vinegar
Combine turkey neck and giblets, 5 1/2 cups broth, quartered onion and bay leaf in saucepan. Simmer until reduced to 3 cups liquid, skimming occasionally, about 1 hour. Strain turkey stock.
Melt butter in large skillet over medium-high heat. Add sliced onions; sauté 10 minutes. Add 1 tablespoon rosemary and 1 tablespoon sage and sauté until onions are golden, about 10 minutes. Add flour; stir 1 minute. Gradually whisk in turkey stock. Boil until gravy thickens, stirring often, about 3 minutes. Add 1 teaspoon each rosemary and sage.
Transfer turkey to platter. Tent with foil. Pour juices from pan into large glass measuring cup; spoon off fat. Add juices to gravy. Add vinegar to roasting pan. Bring vinegar to simmer over medium heat, scraping up browned bits. Pour mixture into heavy small saucepan. Boil until reduced to 1/4 cup, about 3 minutes; add to gravy. Rewarm gravy; thin with more chicken broth, if desired. Season with salt and pepper.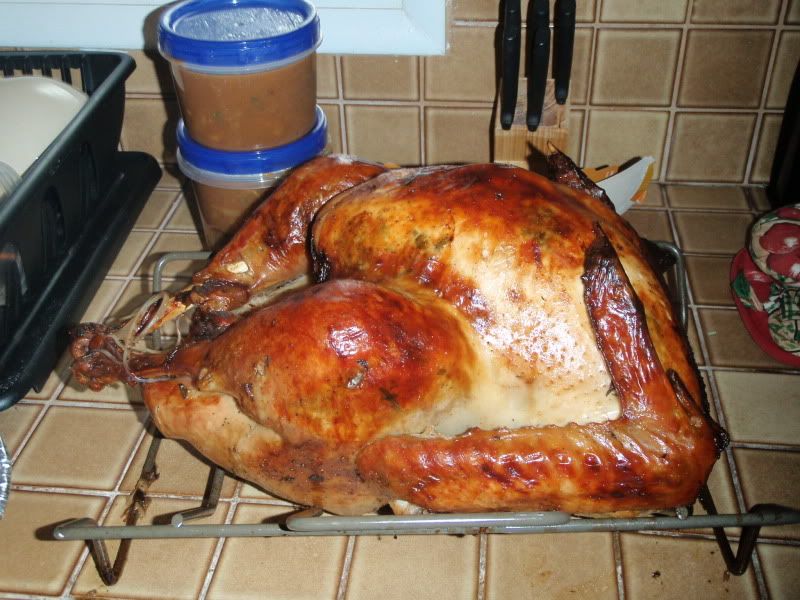 In the left-hand corner, there's my gravy all packed up and ready to go. Note the rich dark color. Yum!