I was extraordinarily pleased at how well this turned out, even though there was a bit of a thermometer mishap. I would definitely do the brine thing again.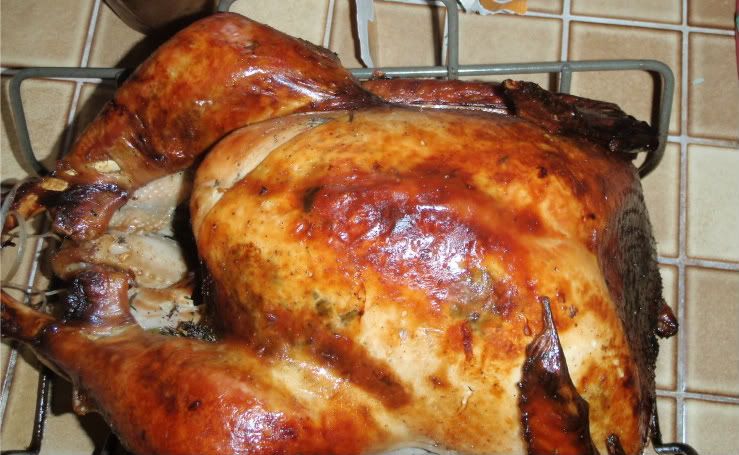 Printable Version
Brine mixture of your choosing (I used a
William-Sonoma packaged version
)
1 Tbs minced herbs(chose as many as you like e.g. thyme, rosemary, italian parsley, sage, marjoram)
8 Tbs butter, softened
4 garlic cloves, minced
1 tsp ground pepper
1 tsp salt
Prepare brine according to directions. Brine bird 12-24 hrs prior to roasting.
Preheat oven to 400.
Drain bring and pat dry with paper towels.
Combine herbs, garlic, butter, and salt and pepper. Chill butter until firm but still malleable. Rub under skin in breast and drumstick area. Coat bird with butter mixture.
If not stuffing, season cavity with salt, pepper, a few crushed garlic cloves and a handful of fresh herbs.
Cover with tin foil. Cook for 30 min at 400 degrees, then lower oven to 325 degrees.
Baste each hour with 2-4 cups chicken stock and then pan juices.
Bird is done when an instant read thermometer reaches 165-170 in the thickest part of the thigh. (My 17 lb bird took around 4 hrs.)In 2008, the
USDA reduced the required internal done temp from 180 to 165 degrees.
At 180, the breast is definitely not as juicy as it should be.
Remove foil in last 30 minutes of roasting to brown skin.
Allow to sit for 30 minutes covered after removing from oven before carving.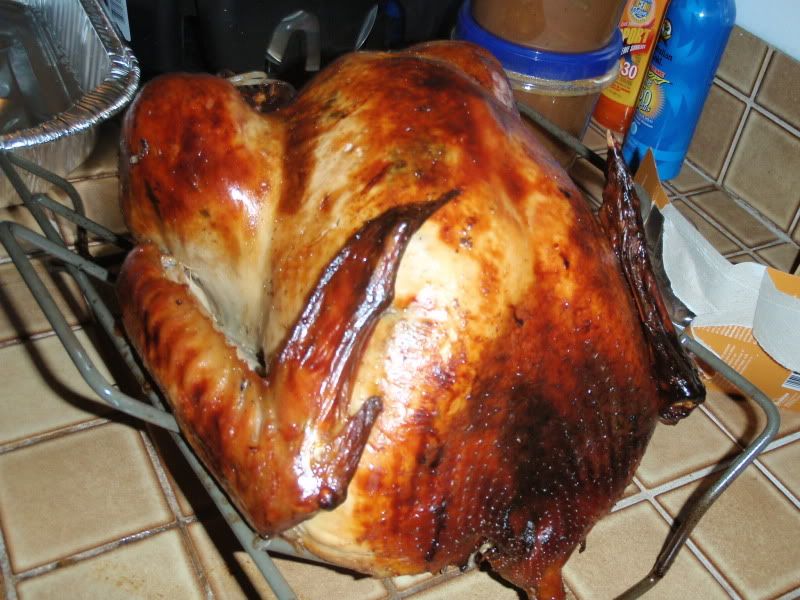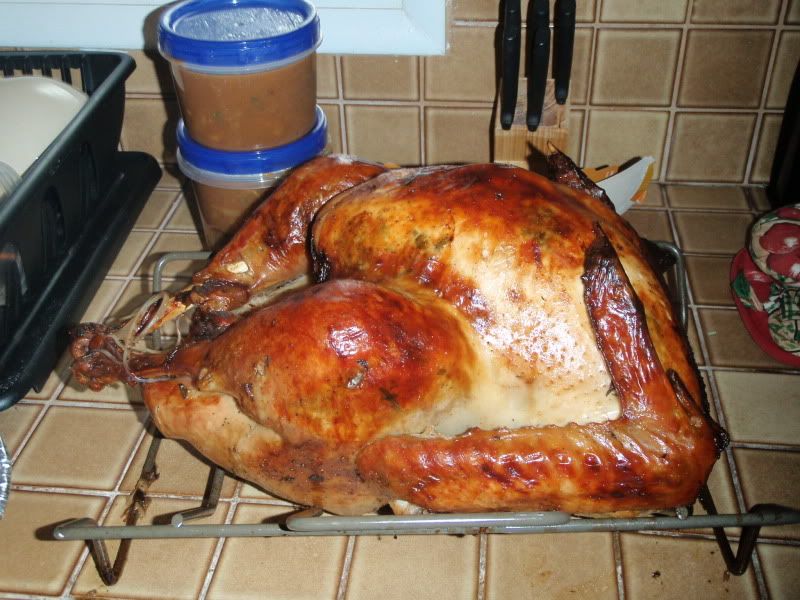 Yes, that's my fantabulous carmelized onion and balsamic gravy in containers to the left. Recipe to come.