This recipe was derived from a crockpot recipe that was an absolute disaster. I kept the basic idea--spinach, tomatoes, and beans, but got rid of the rice and made it on the stovetop.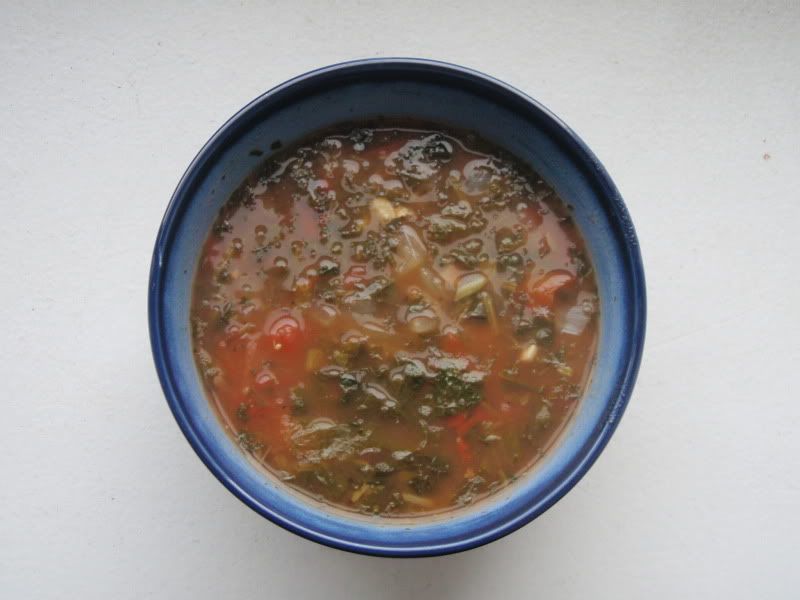 45 oz chicken stock
15 oz white beans, such as Great Northern
15 oz black beans
15 oz diced tomatoes
8 oz tomato puree or tomato sauce (which is puree with seasonings)
8-12 oz frozen spinach
1 medium onion, chopped
3 cloves garlic, minced
1/2 tsp cumin (most recipes combine spinach with nutmeg, but I hate nutmeg)
1 tsp dried basil
salt and pepper to taste
sugar to taste
In medium dutch oven or pot, saute onion until tender. Add garlic and cook for another minute. Add dried basil and give a good stir.
Stir in tomatoes and tomato sauce, season with salt and pepper. Add in beans and chicken stock. Bring to a near boil. Reduce heat and simmer for about 20 minutes.
Raise the heat to medium and add in cumin and spinach. I bought a 16 oz bag of frozen chopped spinach and added a little more than half the bag. Avoid allowing the soup to boil. Simmer for another 15 minutes.
Adjust seasoning to taste. I also added 4 tsp of sugar at this stage, but that is unnecessary if your tomatoes are sweet.
Serves 6-8.