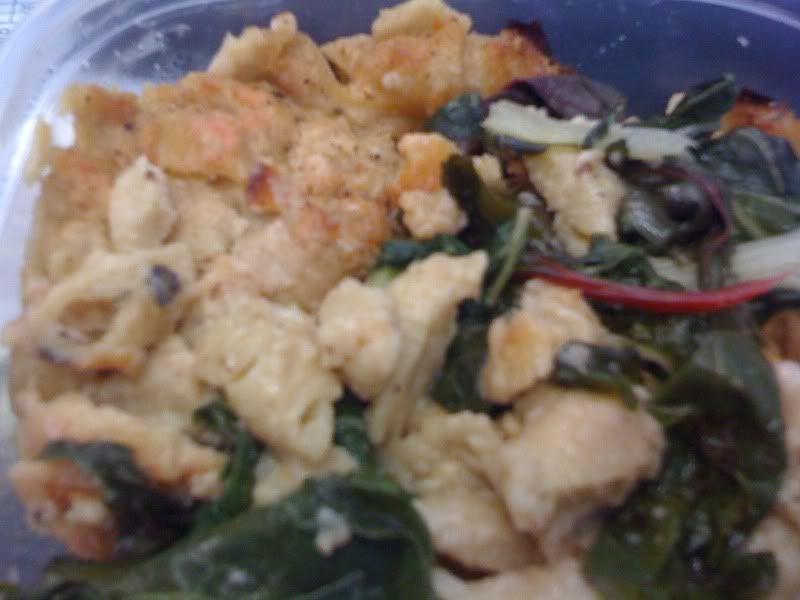 This recipe stemmed from me really wanting mac and cheese, but not having the ingredients for the traditional deal. I basically made this up as I went along.
6 oz grated swiss cheese
2 oz grated parmesan cheese
3 T butter
3 T flour
2 cups skim milk
1/2 tsp garlic powder
salt and pepper to taste
2-3 cups swiss chard, cooked until just wilted
(you can do this in boiling water/stock or in a saute pan with a little bit of olive oil.)
1/2 c bread crumbs, seasoned (use a 1/2 tsp of any combination of basil, oregano, and/or parsley and salt and pepper)
3 cups of cooked shells or pasta of choice
Preheat oven to 400 degrees.
Create a roux by melting butter and then stirring in flour. Cook for a minute or two. Then whisk in milk and cook until bubbly and slightly thickened. Add in garlic powder and season with salt and pepper. Mix in cheeses and cook until completely melted. Adjust seasonings, if needed.
In an 8 inch square baking dish, sprayed with cooking spray, mix sauce with pasta and swiss chard. Top with bread crumbs and spring with additional parmesan, if desired. Bake for about 30 minutes, until the top browns.
4-6 servings