This recipe was modified from a Food Network recipe by the same name.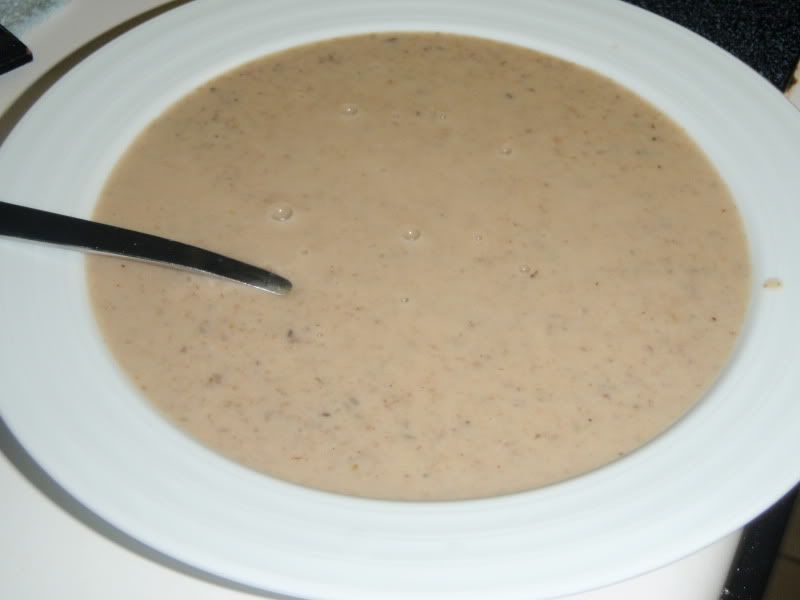 1 oz dried mushrooms (I used porcini and a mixed pkg from World Market)
1 3/4 c hot water
12-16 oz fresh mushrooms, button
6 c chicken broth
4 T butter, 1 T olive oil
5 cloves garlic, minced
1 large onion, finely chopped
2 medium shallots, finely chopped
7 T all purpose flour
1 bay leaf
1 tsp dried thyme
1 tsp dried parsley
1 tsp salt
3/4 tsp fresh ground pepper
1 c half and half
splash of sherry or Madeira, if desired.
Soak dried mushrooms in hot water for 20 minutes. Remove using a slotted spoon, reserving liquid.
Saute all mushrooms in olive oil and butter over medium high heat until soft and somewhat dry, about 6 minutes. Add in onions and shallots, cook covered until soft, about 5 more minutes. Add in garlic, and cook for another minute.
Add flour, cook for another minute. Whisk in reserved liquid from mushrooms. Use a strainer to remove any sediment. Whisk in chicken stock. Bring to a near boil.
Add spices and simmer for 15 minutes. Remove bay leaf and fresh herb stems, if used.
Using an immersion blender (or carefully using a regular blender in batches) puree mixture until smooth. Whisk in half and half, as well as any wine desired. Adjust seasonings accordingly.
Serves 6-8