On Sunday, not only did I make
these banana muffins
, I also made a loaf of french bread.
French Bread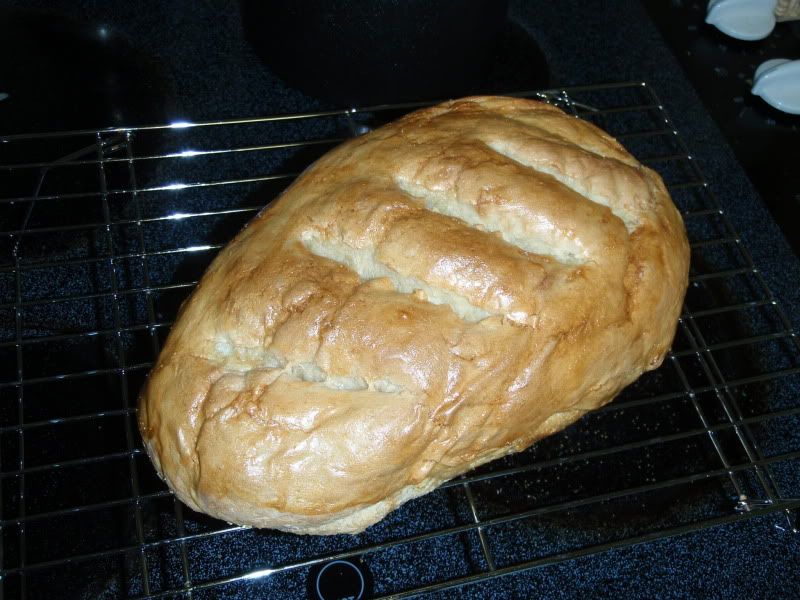 2.25 tsp active dry yeast
1.25 c warm water
1.5 tsp salt
.5 Tbs butter, melted
3.5 c all purpose flour
cornmeal for dusting
1 egg white
1 Tbs water
1. Dissolve yeast in warm water in bowl of stand mixer. Add salt, butter, and flour. On low, mix till blended about 1 minute, scraping sides if necessary. Knead on low for 2 minutes. Dough should be sticky.

2. Place dough in a bowl coated with cooking spray, turning to coat. Cover with a towel and let rise in a warm place for at least an hour or until doubled.

3. Punch down dough and roll into 12 x 15 rectangle. Place dough on greased baking sheet that has been dusted with cornmeal. Cover and let rise for 1-2 hours until doubled.

4. With a serrated knife, make several diagonal cuts on the top of the loaf. Bake at 450 degrees for 25 minutes. Beat egg white with water and brush loaf. (This will result in a shiny gloss.) Return to the oven and bake 5-10 minutes longer until the golden brown desired.

5. Remove from baking pan immediately and cool on wire rack.


And what's bread without strawberry jam?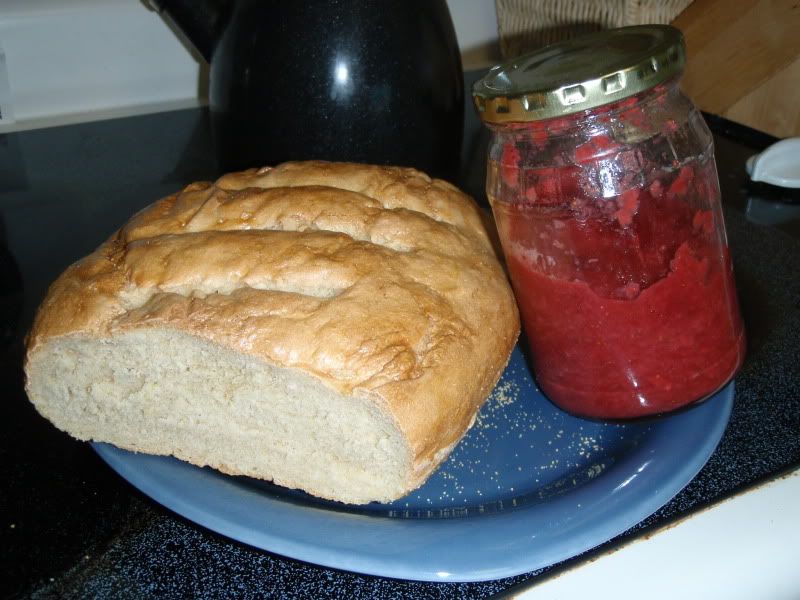 Strawberry Jam

1 qt hulled strawberries
2 T lemon juice
1/4 c sugar

1. Pulse strawberries in food processor until coarsely chopped.

2. Transfer to large skillet and mix in sugar and lemon juice.

3. Cook over medium, stirring frequently until jam has thickened and bubbles completely cover the surface. (I think this means the sugar has combined.) This will take 15-20 minutes.

(I kept going until I had the consistency I wanted.)

4. Transfer jam to a jar and let cool to room temperature, then refrigerate.

Makes 1-1.5 cups.